headphones
Westone Adventure Series Alpha Review
Take these outside, and get messy.
$199.99 MSRP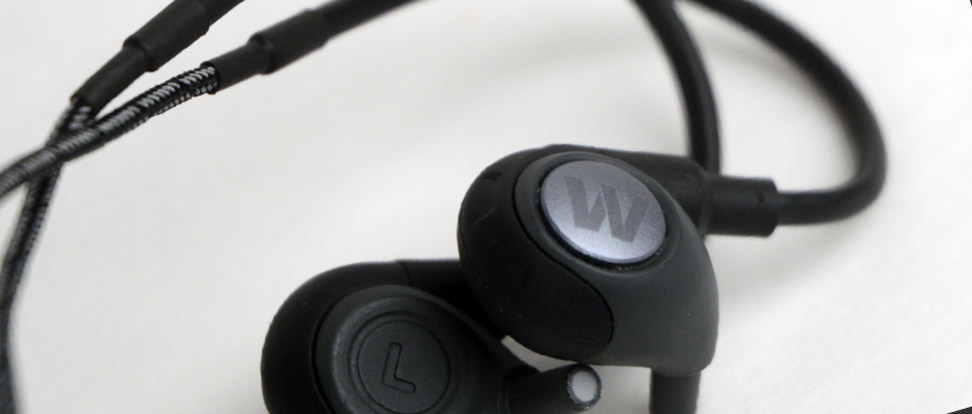 The Westone Adventure Series Alpha is better than 82% of the headphones we tested.
It is better than 86% of the headphones we have tested under $200.
It is better than 85% of the in-ear headphones we have tested.
Introduction
They aren't clad in obnoxious extreme branding, but the Westone Adventure Series Alpha in-ears are marketed (and built) to withstand an extreme athlete. To give you a little taste of what I mean, you have to pull a ripcord in order to just open the box—and inside is a set of in-ears that are a paragon of durability with the chops to survive even the most extreme environs.
Design
Rock steady
For the most part, headphone design is boring. There's a few points to discuss, but most cans sport similar schemes, differing only in few ways that affect the fit or style. As you may have guessed, these in-ears are vastly different. Because Westone sunk a lot of time and design effort into its Adventure Series Alphas, there's a lot to cover.
We're talking about the Ron Swanson of in-ears here.
Long story short, these things are extremely hard to kill. The magnesium unibody casing on the earbuds will withstand just about any impact you're likely to inflict upon them, and the nozzle itself is water resistant due to a treated membrane at the end. The Adventure Series Alpha can survive drops (of rain and notable impacts), spills, shear force, tugs, branches, and even death. I'm not talking about some strange Lovecraftian dimension wherein "even death may die"—I'm talking about replaceable cables. Should you manage to do the near-impossible and destroy the cord or plug, there are steps you can take to protect your investment.
For all you Parks and Recreation fans, we're talking about the Ron Swanson of in-ears here. Like the paragon of masculinity that is the mustachioed TV character, these also have all the tools for the job. They come with a water-resistant case, five different sizes of two types of sleeves (foam and silicon), a cleaning tool, and a shirt clip. The Adventure Series Alpha is equipped to properly deal with just about any set of ears, no matter how waxy or sensitive.
Audio Quality
Badass bass boosters
If you're a fan of studio sound, these are not the in-ears for you. However, that term is abused as badly as Cleveland Browns season ticket holders. What the Westone Adventure Series Alpha does give you is sound that is unlikely to be impeded by distortion, and an appreciable bass boost. Honestly, this will work famously for use outdoors or on the street. Maybe less so when you're at the computer, but the target audience of these in-ears isn't sedentary users.
You can expect outside noise to be anywhere from 1/4 to 1/32 as loud as it would be without these in-ears on.
Westone did everything they possibly could to prevent not only noise-induced hearing loss, but also outside sounds masking some notes in your music. Masking is probably the most common problem for users of headphones with poor isolation—you can spend as much as you want on headphones for smartphone use, but outside noise can ruin the whole experience. The attenuation from the foam ear tips is absolutely phenomenal—better than most active noise canceling headphones—and some of the tips are long enough to reach far into your ear canal. You can expect outside noise to be anywhere from 1/4 to 1/32 as loud as it would be without these in-ears.
Comparable Products
Before you buy the Westone Adventure Series Alpha, take a look at these other headphones.
In Use
They will survive
So what's it like to use these? Well, for starters, I suggest the foam ear tips instead of the silicone ones if you're not using these for bombing down slopes or running. If you are looking for exercise headphones, the silicone tips are easy to maintain and clean, and you'll never have to worry about shorting these with sweat because the nozzle—as well as the case—is water resistant (as is every other part of the Adventure Series Alpha).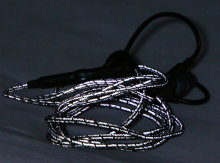 Once you've found the right size tip, just loop the wire over your ear, then roll the foam in between your fingers until it is compressed. Jam it in your ear canal, and wait for the foam to expand. Because it fits to your ear, these are some of the more comfortable in-ears around.
I should mention that these really shine at night. Literally! If you like to jog at night, oncoming cars will see the super-reflective cable, allowing the both of you to avoid each other when visibility is bad. Much like any good sports equipment, these will also help keep you alive when you're getting your heart rate up outdoors. They honestly remind me a lot of the outdoor gear I used growing up in New Hampshire: Not only are they made to keep you safe at night, but the Adventure Series Alpha can withstand some rain or snow as well.
Conclusion
Headphones for extreme sports
Buy the Westone Adventure Series Alpha if you have the disposable income and a need for in-ears. It's a very rare thing when a set of in-ears is not only durable, but comfortable. On top of all that, the sound is right about where it should be for the money, and the fact that Westone imbued the Adventure Series Alpha with so many useful features is a huge boon—this is a great pickup for someone who likes to go outside at night, or takes their headphones into extreme environments.
They're not without their drawbacks, and honestly, there's no such thing as a perfect set of headphones. However, their most glaring flaws are in areas where personal tastes are the most important concern, so you may very well think these are perfect.
With safety features, good sound quality, extreme durability, and a huge range of sleeve options to fit any ear canal, these are without a doubt one of the best in-ears you can buy. They're not going to challenge the Sennheiser IE 800 for audio performance, but they offer an all-around quality that is tough to argue with if you want something that can go anywhere and still work well.
Our editors review and recommend products to help you buy the stuff you need. If you make a purchase by clicking one of our links, we may earn a small share of the revenue. Our picks and opinions are independent from any business incentives.