headphones
Torque t096z Headphones Review
Six headphones for the price of one? What's the catch?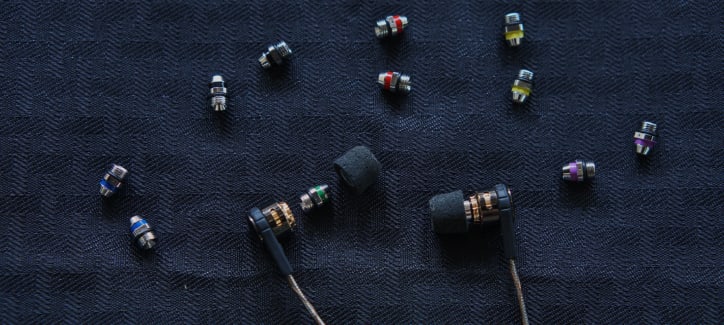 Kickstarter can be a den for false promises and unfulfilled wishes—especially when it comes to consumer electronics—but that's not always the case. Occasionally, a company manages to debut a pretty spectacular product that not only works, but delivers on those promises. Say hello to the Torque Audio t096z Customizable Headphones (MSRP: $329.95, $225 if you fund them on Kickstarter by July 26th).
Innovation is the name of the game when it comes to Kickstarter projects, and Torque's gambit isn't any different. For the t096z in-ears, that means 9mm bio-cell diaphragms and six interchangeable valves that are designed to enhance the musical elements based on whatever genre you're listening to. The good news is that no matter which valve you use, your music sounds great.
The bad news? Unless you've got very broad genre tastes, chances are you'll wind up settling on just a couple of favorites and ignore the others. Our testing also revealed some curious issues with half the valves that you'll want to be aware of before you put down your money.
Still, the t096z in-ears provide a solid return on investment that should please all but the most demanding audiophiles. While swapping out parts every time you want to go from classic rock to soulful jazz might seem like a pain, the results can be well worth the effort.
The Looks
These are the tanks of the in-ear world
The CNC machine-milled brass casing provides the t096z in-ears with the kind of heft that's not typically seen in other in-ear headphones. It's so heavy that I had to spend quite a bit of time picking which of the included tips fit me best. Not because the others were uncomfortable, but the headphones were so heavy that they actually fell out if the tip was too small.
Along with the six valves, Torque also included several tip options so you can get just the right fit. There are six in total: a standard silicon tip in small, medium and large; a double-flange tip; a triple-flange tip; and memory foam tips from audiophile-adored Comply. Again, we highly recommend the memory foam first and foremost. It's super comfortable, fits great, and gives the best performance.
For me, the best fit was definitely the much-coveted memory foam tips that squish and mold to the inside of the ear—meaning I had both a comfortable and secure fit. Once those were in place the whole package looked and felt great. Torque went the extra mile to make them worth your money, and it shows.
Of course—weight and durability aside—the primary draw to the t096z in-ears is the interchangeable valves that configure how your music sounds. The six valves—titled Reference, Deep, Clear, Balanced, Smooth, and Bliss—are clearly color-coded and alter the frequency response to best fit your music genre of choice. Six valves might seem like a bit of overkill, but with an MSRP over $300 these are hardly designed with the everyday consumer in mind.
The actual act of swapping out the valves is a very simple process; all you have to do is unscrew one pair and screw in another. While it's definitely not something you'd want to try on a moving subway or while you walk, the whole thing can be done in a few seconds at your desk.
Torque didn't slouch when it came to the rest of the headphones, either. The in-line remote is a little bulkier than what you'd typically expect to find, but fits with the heavy, durable build of the headphones. It has a volume rocker and a central button for controlling your music or phone calls. While it might be a production issue that will be resolved later, our remote's increase volume didn't have the same click that the decrease volume side did. Sometimes, it was hard to tell if I was even squeezing the right side until my music got deafeningly loud.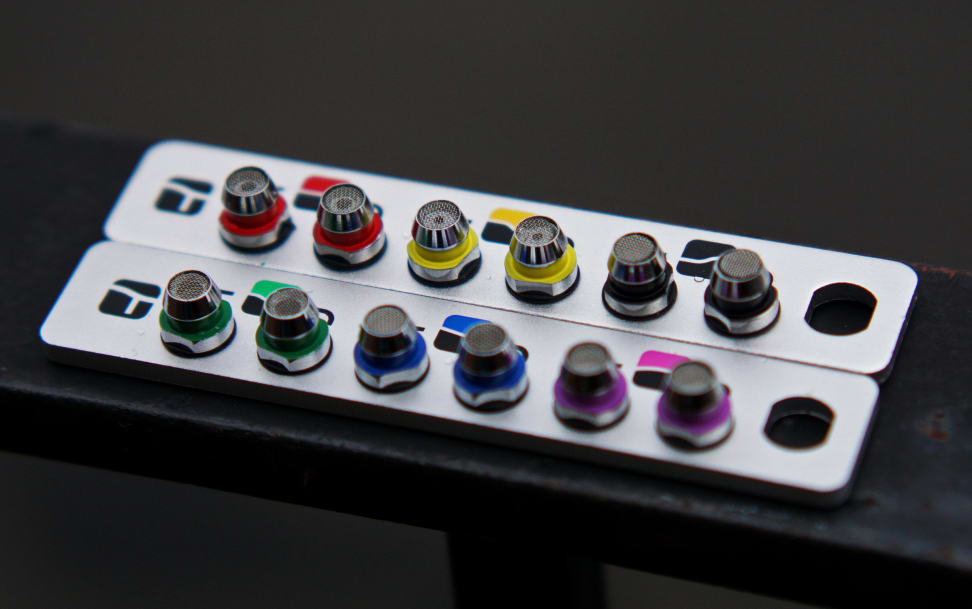 The cable comes in at just under five feet in length, which was the perfect size to accidentally lasso my hand while I listened to music with my phone in my pocket. The probability for tangling aside, the cable feels like it's plenty durable. However, the points at which it connects to the audio jack and the earbuds don't have a lot of protection, so there's a risk the cable could snap if placed under too much repeated stress. You can increase the lifespan of your investment by taking full advantage of the small, rigid clamshell case. The only downside is that there's not nearly enough room to fit all of the valves and spare eartips included with your purchase, so choose wisely.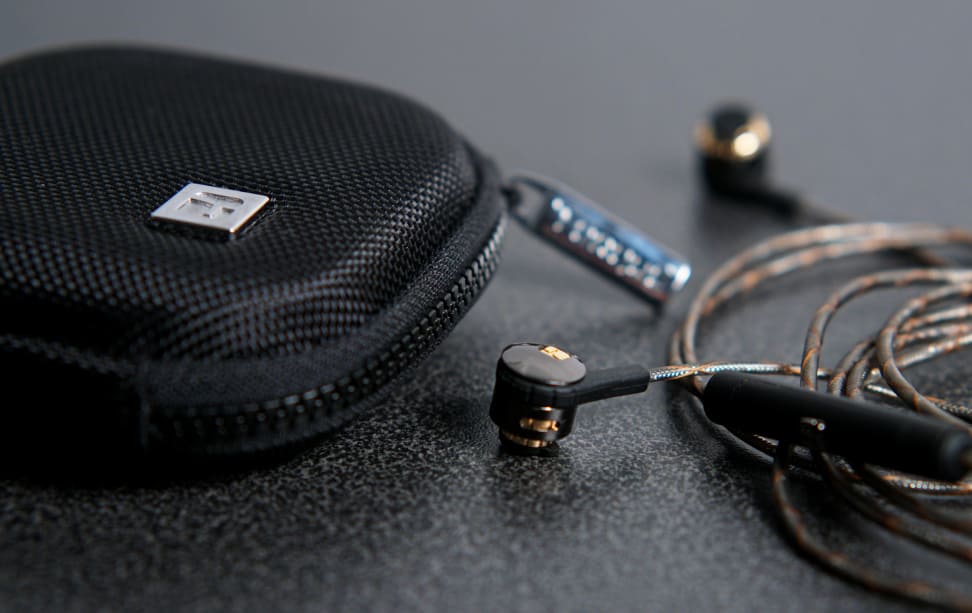 Advertisement - Continue Reading Below
The Sound
If you don't like how it sounds, switch it up!
You might be thinking that buying the t096z in-ears is like getting six pairs of headphones for the price of one, thanks to the swappable valves. In theory, that's true; each genre you listen to should sound different based on which valve you use. In reality, the differences simply aren't that drastic.
To get a little more objective analysis, we hooked them up to our Head And Torso Simulator (HATS). HATS showed that there were basically three sets of valves with near-identical treble profiles—Clear/Balanced, Reference/Deep, and Smooth/Bliss—and you can see this for yourself in the graphs below. For example, the Reference and Deep pairings have a treble response (between 1,000 and 10,000) that line up almost perfectly. Meanwhile, the bass response shows two drastically different lines. This is because the Reference valves drops the left channel—and only the left channel—by up to 20dB.
You can see this exact same thing in the other two groupings, with Bliss and Clear showing the same drop. This is mostly in the sub-bass range so it's not as noticeable while playing regular music, but it's a weird result that gives us pause. While dropping the bass can be pleasing if you don't like skull-rattling bass, we can't figure out why both channels aren't lowered equally. Personally, I didn't notice it that much, but you should keep in mind that your mileage may vary.
Still, in practice, the six valves succeed in offering a variety of sound profiles that complement a wide array of genres. When I used the Bliss valves to listen to Leonard Bernstein perform Adagio for Strings, it was immediately obvious that it was ideal for classical music. This can be seen in the graph, which shows the Bliss valves boosting treble frequencies and downplaying bass. When I listened to the same song with the Deep valve—which drastically boosts bass and diminishes treble sounds—it was harder to get the full effect of the string orchestra.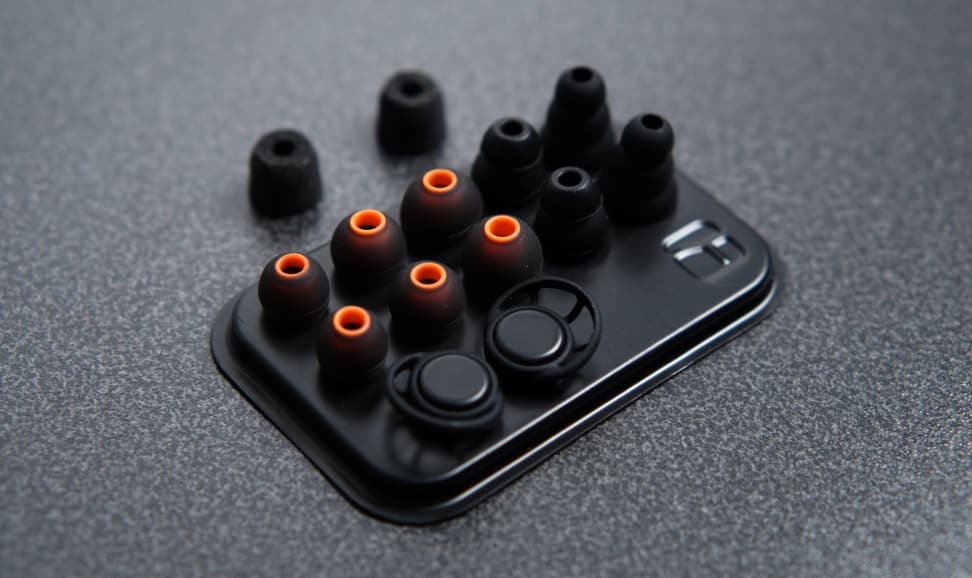 The big question is whether this applies across genres that have a broader mix of sounds. For that, I spent far too much time on Spotify cycling through different genres of music and screwing in new valves every so often. Most of the valves sounded just fine, though you can definitely tell when you're using a valve that's ill-suited to your music of choice. Luckily, if you run across a song that doesn't sound right, you can switch up the valves and get the effect you were looking for.
No matter what genre of music you listen to, headphones need to block out the sounds around you if you're going to take them out in the world. In-ears are usually great at this, and the t096z in-ears are no different. The memory foam tips are the best at this, as they can be squished and molded to fit inside your ear canal. Deep bass sounds (think rumbling engines) aren't dropped by all that much, but mid-range sounds—the majority of what you'll encounter—are cut by an excellent 50–75%. This is before you even play music, which will drown the out the world even more.
The Verdict
If you've got the cash, the t096z is a clear winner
Torque Audio's t096z Customizable Headphones (MSRP: $329.95, $225 if you fund them on Kickstarter) attempt to live up to their steep asking price by essentially offering six headphones for the price of one. Add in the heavy-duty brass casing and the great sounds offered throughout the six interchangeable valves, and you've got a compelling case for the last pair of in-ears you'll need for a long time.
Despite some hitches in the sub-bass range, we generally found the t096z in-ears to be a superb value; while the channel issue is worrisome, if these had come with just the Green/Balanced valve and memory foam tips, we'd feel comfortable recommending them for the price. That you get a whole suite of tip choices and five other valves is just gravy. The others don't perform quite as well for our money, but they're valuable extras if you have a wide range of tastes.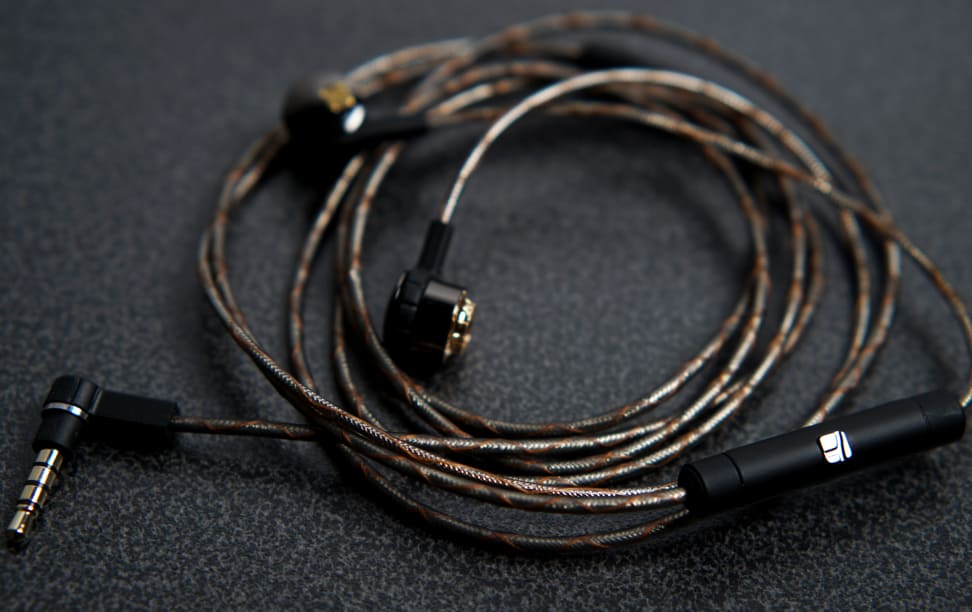 If six valves seems like overkill, Torque Audio is also offering the t103z In-Ear Headphones (MSRP: $179.95, $90 via their Kickstarter), which is a scaled back version of the t096z. Instead of six interchangeable valves, the t103z come with only three—Reference, Deep, and Clear—and don't come packaged with the memory foam tips we loved so much. It's important to note that two of those—Reference and Clear—suffer from the diminished bass in the left channel. Still, if switching out valves and adjusting your music sounds appealing (and you don't have $330 to spare), the t103z in-ear could be a compelling compromise.
If you missed the Kickstarter and don't want to spend $330 on in-ear headphones you could also take a look at the JBL Synchros S200i Headphones (MSRP: $129.95). Those won our 2014 Best of Year Award for the category, and they still hold up today. They're much cheaper but still feature a stylish, spoke-like design around the casing with a sound profile that slightly favors bass.
Of course, for the audiophiles and music lovers out there, the ability to swap out valves to perfectly match your tunes is a promise that will be hard to pass up. For those people the Torque t096z in-ear headphones offer a winning, albeit costly, opportunity.
Our editors review and recommend products to help you buy the stuff you need. If you make a purchase by clicking one of our links, we may earn a small share of the revenue. Our picks and opinions are independent from any business incentives.
Our editors review and recommend products to help you buy the stuff you need. If you make a purchase by clicking one of our links, we may earn a small share of the revenue. Our picks and opinions are independent from any business incentives.
Advertisement - Continue Reading Below
Our editors review and recommend products to help you buy the stuff you need. If you make a purchase by clicking one of our links, we may earn a small share of the revenue. Our picks and opinions are independent from any business incentives.
Get Our Newsletter
Real advice from real experts. Sign up for our newsletter
Thanks for signing up!