headphones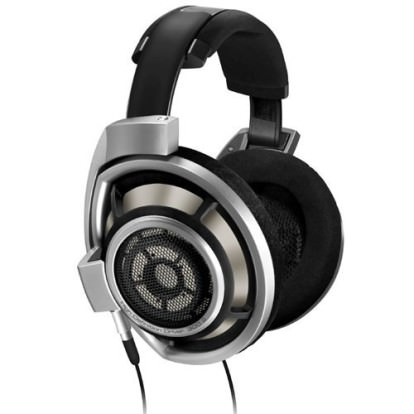 Tour & Design
**
Tour**
---
The HD 800s are the latest $1400 hype-machines to stir up the headphone industry.


The HD 800s are a lot less imposing in person.


The HD 800s have semi-open backs, which create an open soundstage. See the light grey part in between the black plastic bits? The one that's catching the most light? That's actually a soft, mesh-like material. Bet you didn't know that (if you did, email us to claim your reward from this foolhardy bet).
The cups can also twist around very slightly.


The ear cups are huge, even for a set of over-ears.


The HD 800s' band is made of metal and features a good deal of padding on its underside. The band is extendible.


Before reading this caption, were you aware the above image

looks kind of like a smiling Sanrio frog?


The HD 800s feature a removeable cable, which plugs into the undersides of the headphones.


This is where you plug the cable in.








Enhance.


The cable is about 11 feet long, and ends in a 1/4-inch jack that's really a lot longer than it needs to be.
Below is proof we love playing dressup with our testing robot, HATS. This is what the headphones will look like on your head. Literally. The headphones look so futuristic they will actually transform you into a sophisticated robot, stripping you of virtually all semblance of humanity.


These headphones look like proximity mines, but do not behave like them.


In The Box
---
There isn't much in the HD 800s' macabre sepulchre except for the headphones themselves and a strong sense of foreboding. We would've expected them to come with a 1/4-to-1/8-inch adapter or a Dracula, but they sadly come with neither.


What a terrible night to have a curse.


---
The HD 800s seem to be a sturdy set of headphones. Their cable and cup padding are removeable, which is nice, since those are the two parts that break down the fastest. The semi-open backs might let some dust in, but it's probably nothing a little canned air can't fix.
---
Although we're going to make fun of the HD 800s throughout this review for looking kind of faux-futuristic, we don't necessarily think they look bad. They look like you spent $1400 on the latest, greatest headphones. They have a clean design and look incredibly cool just sitting by themselves. Once you put them on, they might make you look a bit silly to laypeople, but rest assured: even though your friends will think you look like a space marine, nobody who knows headphones will make the same mistake.
Comparable Products
Before you buy the Sennheiser HD 800, take a look at these other headphones.
Our editors review and recommend products to help you buy the stuff you need. If you make a purchase by clicking one of our links, we may earn a small share of the revenue. Our picks and opinions are independent from any business incentives.
Sections