headphones
Pioneer SE-A1000 Headphones Review
The Pioneer SE-A1000s offer good audio quality and great cable connectivity.
$54.56 at Amazon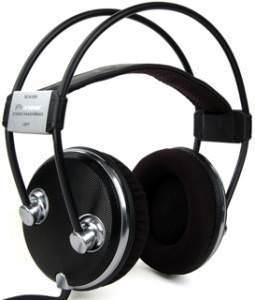 Tour
The first thing we noticed about the Pioneer SE-A1000s is their interesting band design. It has two parts: two hard plastic half-rings that suspend a soft cloth band. The cloth band is the part that actually touches your head, while the half-rings orbit around it. The cloth band runs along a ribbon, which is connected to a plastic holder.
The cups are large, textured, rounded black plastic. They connect to the band at silvery plastic spheres that allow the cups to tilt back and forth. The inside of the cups feature large, cloth-covered pads.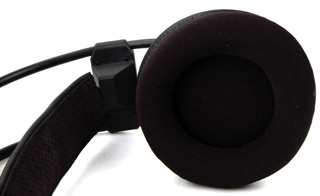 The 6 meter-long cord is wrapped in a fiber weave. The cord ends in a plug whose cord guard is a metal spring. The plug itself is threaded, so it can be screwed into a port that's also threaded.
In the Box
The contents of the box are limited to the headphones themselves, a soft pouch, and a 1/8-to-1/4-inch adapter.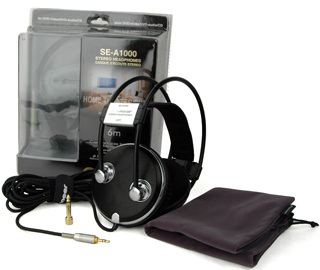 Durability
In terms of durability, the Pioneer SE-A1000s seem to be pretty solid. Their cord has a woven body sock that should keep it very safe. The cord guards seem to be incredibly solid, and end in metal springs. The portion where the cord meets the ear cup is similarly protected.

The ear cups connect to the band at a pivot point that allows them to tilt. This is a moving part, which could break down with time, but it seems fairly sturdy.
The band itself is comprised of two parts. The outer band is actually two thin plastic bands that arc well over your head. They can bend around quite a bit, and generally seem to be about as sturdy as a solid band, but capable of slightly more movement. The interior band is a ribbon covered in cloth. It seems robust enough.
The biggest weak point is the band, but its design allows it to bend quite a bit. We wouldn't worry too much about these things breaking.
Comparable Products
Before you buy the Pioneer SE-A1000, take a look at these other headphones.
Aesthetics
Off the head, these headphones look pretty cool. They have an interesting, youthful - but not garish - aesthetic. On the head, however, it's hard to not look a bit foolish. The headphones are gigantic, and if you wore these out of your house you'd look like a lost DJ. If you plan on using these in your house, or you actually are a DJ and very proud of it, then the A1000s should be great for you.
Our editors review and recommend products to help you buy the stuff you need. If you make a purchase by clicking one of our links, we may earn a small share of the revenue. Our picks and opinions are independent from any business incentives.
Sections