headphones
Panasonic ErgoFit RP-TCM125 Review
White hot deal
$19.99 MSRP
Under the Hood
The Panasonic RP-TCM125 (MSRP $19.99) are terrific in-ears; the low price is just icing on the cake. As long as you don't expect hyper bass boost or a flat studio sound, you'll be pleased as punch. Minimal tracking errors, no distortion, and a good in-ear seal cement these Panny plugs as a very affordable option.
Frequency Response
Finding a balanced, error-free frequency response in this price range is quite a treat. I tested a bass-forward frequency response with plenty of respect for the midrange and high-end. Frequencies within the sub-bass and bass region—from 10Hz to around 200Hz—are extra audible, providing a big low-end foundation for your tunes. Mid-range frequencies of around 1kHz experience a slight reduction in volume, but since human hearing is extra sensitive to this portion of the range, this reduction works nicely—meaning it achieves proper balance.

To look a little more closely—the RP-TCM125 actually do an excellent job following an ELC (equal loudness contour). They emphasize bass tones a little more than your ear needs for equal volume, but not so much as to detract from mid and high tones, which are mapped almost exactly to the ELC. While there proved a few discrepancies in emphasis around 7kHz and 9kHz, these won't detract from the experience in any way—they're very high, and consist entirely of harmonic overtones.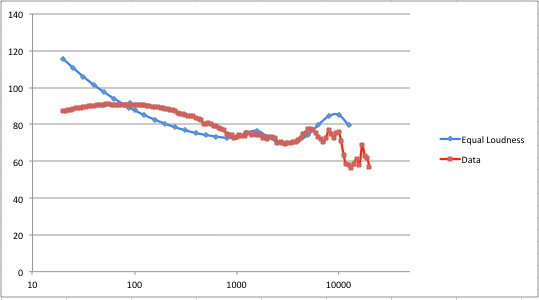 Attenuation
Sick of listening to that one guy snore on the bus? Then you need headphones with decent "attenuation"—the ability to block ambient noise. Finding the best fit on these Panasonic plugs means checking each of the silicone sleeves, but a firm fit will block plenty of noise. Bass frequencies are only partially quieted, so you'll still have to suffer low rumbling sounds like engines and mack horns. Middle frequencies will be nearly 1/4 their original loudness, however, and high-mid and treble frequencies will be up to 1/16 and 1/8 of their original loudness, respectively.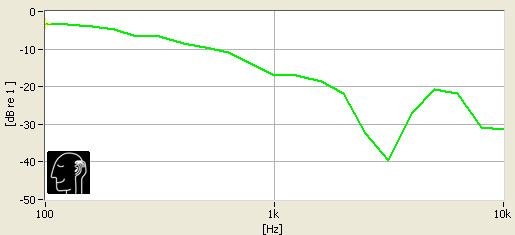 Comparable Products
Before you buy the Panasonic ErgoFit RP-TCM125, take a look at these other headphones.
Tracking
One area where I discovered some imperfection was in tracking. Perfect tracking means a perfect balance of volume between the left and right channels, or speakers. In this case, the Panasonic RP-TCM125 favor the right channel a bit when playing sub-bass and bass frequencies, but not so much that anyone's likely to notice (though you can hear it if you're listening hard). Things even out around 1kHz—where you probably would notice—and jump toward the left channel as they get towards 9kHz, which fortunately is well out of the range of "obvious" frequencies.

Distortion
Not only did the Panasonic RP-TCM125 test with less than 3% total harmonic distortion (THD), they tested with almost no distortion whatsoever, even in the dubious sub-bass range—this is an awesome result, even for very expensive headphones. Clarity across all frequency fields is yet another strong point for these budget in-ears.
You'll be able to stay distortion free all the way up to 101 dB—which is louder than is safe to listen, anyway.

Other Tests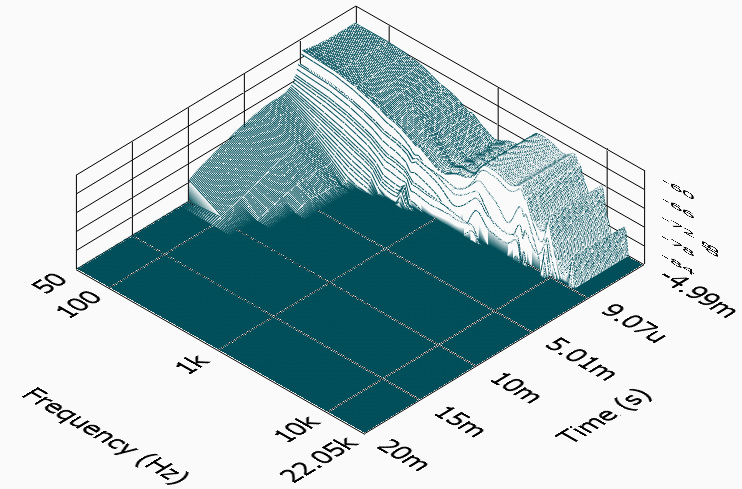 Our editors review and recommend products to help you buy the stuff you need. If you make a purchase by clicking one of our links, we may earn a small share of the revenue. Our picks and opinions are independent from any business incentives.