headphones
Monster iSport Victory Review
Joggers, squat thrusters, stair steppers, lend me your ears.
$61.16 at Amazon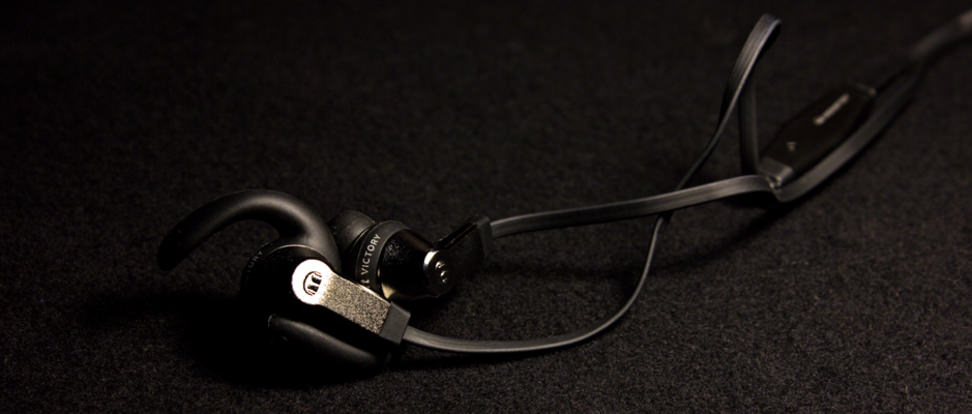 The Monster iSport Victory is better than 79% of the headphones we tested.
It is better than 81% of the headphones we have tested under $200.
It is better than 78% of the in-ear headphones we have tested.
Overview
If you're one of those individuals who needs an inanimate object to keep you company during your irrational, sweaty activities—none of your friends are willing to put on stretchy pants and run around aimlessly with you (you know who you are, joggers)—then you no doubt recognize the challenge at hand: You need headphones that won't fall off, ones that can withstand perspiration. Enter the Monster iSport Victory (MSRP $169.95) in-ears.
A steadfast fit and supposedly sweat-resistant profile are just part of what makes these in-ears so great for the overactive. The Monster iSport also boasts a three-button remote, a tangle-resistant cable, and a balanced, distortion-free sound profile—all in a portable package. Just be warned: The iSport's materials aren't as hefty as you'd think for something in this price range, so store these carefully.
Design & Features
Not as tough as Jillian Michaels
The iSport Victory is built for row-boating, weight-lifting, marathon-running fitness fruits. The 3.8-foot cable is unlikely to tangle as you jog in dazed circles around your local park, due to the tangle-resistant design. A three-button remote lends easy access to motivating music and phone calls. You even get a small shirt clip to prevent the cable from getting jerked around while you violently attempt your five stomach crunches. What's that? You work out shirtless to better showcase your powerful abs, rendering the shirt clip useless? Good for you, buddy.
These headphones include several sets of silicone speaker sleeves to help fit a variety of ears.
These headphones also include several sets of silicone speaker sleeves in a variety of sizes. Big ears, small ears, extra large—Monster has you covered. Altogether, there are five different sets, plus three sets of rubber ear tips (the funny rubber part that folds into your outer ear, serving as a lock). Try as I might, I couldn't shake the iSport loose, so if you need something that won't continually fall out in the middle of your workouts, these might just do the trick.
These parts feel very cheap for a $169 set of headphones.
My only real complaint about the iSport is the cheap quality of the materials. While lightweight, portable, and allegedly sweat-proof, these parts feel very chintzy for the $169 asking price. The cord feels flimsy and thin, and the connections aren't particularly well-guarded. Even the remote is made of a very cheap-looking plastic. If you drop cash on the iSport, handle with care. To make sure they last, use the included carry case instead of flinging them into your gym bag at the end of your workout like a slob.
Audio Quality
Bassy boomers
These in-ears pump out big bass supported by substantial mids and highs.
Since exercise is pretty much the bleakest, most dreaded activity there is, music is needed to bolster the unhappy subject. The Monster iSport can help you manage the pain: These in-ears pump out big bass supported by substantial mids and highs, so you can enjoy your 3-6 Mafia and your Mozart, too. Yet the strong emphasis on bass doesn't overwhelm everything else. Delicate high-range notes on brass, strings, vocals, and percussion are prominent enough that they don't get lost. Sure, purists will complain about the big emphasis on bass, as usual, but really: Who wants studio-grade audio while scaling the side of a mountain in tight neon pants? Exhausted runners don't want a flat response, they just want Eye of the Tiger.
At the end of the day, these in-ears earned great marks because from top to bottom, they shined throughout trials: The balanced sound profile is distortion-free, and safe from distracting outside noises too. In fact, these are some of the best passive noise isolators I've tested. From low sounds like traffic and mumbling passerby to high noises like creaking doors or hollering kids, these Monster in-ears quiet the outside world considerably. And the outside world is safe from you, as well—the iSports effectively seal your music in. That's right, the guy next to me has no idea I'm blasting Tears for Fears right now. No idea.
Comparable Products
Before you buy the Monster iSport Victory, take a look at these other headphones.
Final Look
Rising up to the challenge of their rivals
Fitness nerds will be hard-pressed to find a better companion than the Monster iSport Victory (MSRP $169.99) in-ears. If you need the bump, bump, bump of big bass to get you through an hour of stair stepping, these in-ears can deliver. Take care though: $169 doesn't deliver the durability one might hope for in this case. Though the iSport packs the necessary lightweight frame and three-button remote that athletes are sure to love, they are not sturdy enough to withstand continual gym-bag abuse. Unless you plan to keep these in the included carry case, you may wind up with broken headphones sooner than you'd like. If you're a bit on the careless side, find something more sturdy.
Durability aside, these in-ears hit the mark with the distortion-free sound, comfort, and convenience that active listeners need. With a little searching, you can probably find the iSport for sale online like we did.
Our editors review and recommend products to help you buy the stuff you need. If you make a purchase by clicking one of our links, we may earn a small share of the revenue. Our picks and opinions are independent from any business incentives.