headphones
Marshall Monitor Review
Gimmicks aside, these headphones deliver great, distortion-free sound.
$59.95 at Amazon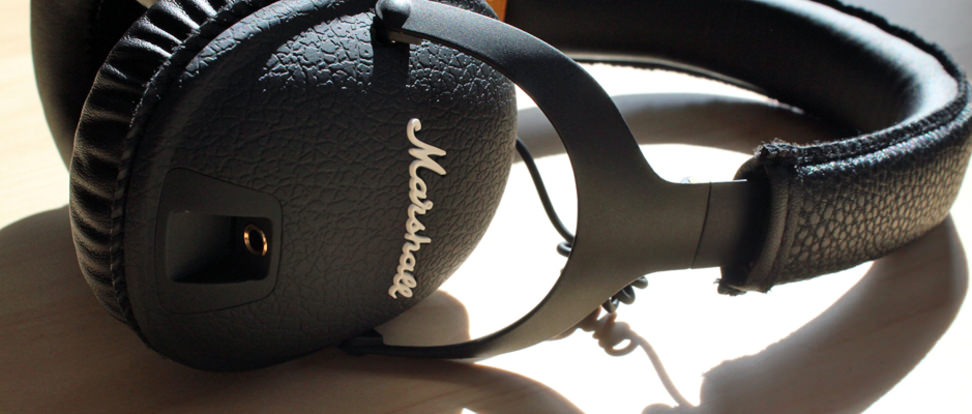 The Marshall Monitor is better than 86% of the headphones we tested.
It is better than 90% of the headphones we have tested under $200.
It is better than 75% of the over-ear headphones we have tested.
Science Introduction
Normally, I'd take you through a straightforward set of tests to show you how trials went in the audio lab, and you'd be in and out of the Science Page in no time. For Marshall's Monitor over-ears, things aren't so abbreviated. Since the company includes a removable "filter" that's supposed to deliver two totally different sound profiles, I had to run every test twice.
Turns out, this was not the most exciting use of my time. With or without Marshall's inserts, which it calls an "F.T.F. System," my test results looked nearly identical.
Frequency Response
High-mids get a bit of a cold shoulder—with or without the special inserts.
Although I ran my frequency response tests twice—once with the special inserts in place, once without—my results were nearly the same each time. The differences barely warrant discussion (as you can see from the charts). So while Marshall claims that removing the inserts produces "brighter, clearer" sound (who knew sound could be see-through and shiny!), don't get your hopes up.
With or without these impotent inserts, the Marshall Monitor over-ears emphasize the bass range, but not to the extent that many consumer headphones do. Popular headphones for bass-mongers tend to follow an equal loudness curve these days, and while the Monitors clearly bear that in mind, they do so in a pleasantly refined manner: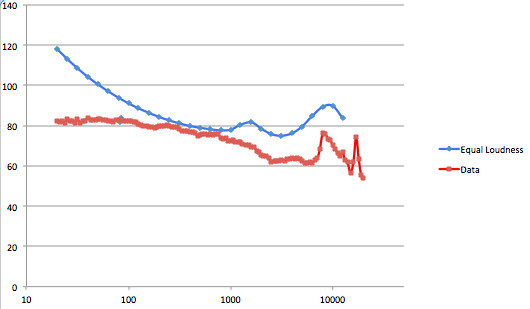 So although the Monitors do put an emphasis on bass, it's to a lesser degree than the ELC, as you can tell from the comparison chart (which shows the Monitor's sans-filter frequency response). This is a happy fact indeed, because the Monitors also drop in loudness between 2kHz and 7kHz. Were bass any louder, this drop in volume in the high mids would mean upper notes on strings, brass, and percussion would be overwhelmed; as things are, the upper mids could benefit from more volume, but at least they aren't fully flooded by bass. Certainly some listeners will wish that this range came through with more clarity, but I've heard far worse. As I said before, the two responses I charted are nearly identical, despite Marshall's "F.T.F." filtering system. It adds a tiny bit of volume in the uppermost portions of the range—we're talking less than 5dB—so good luck hearing the difference.
With the inserts: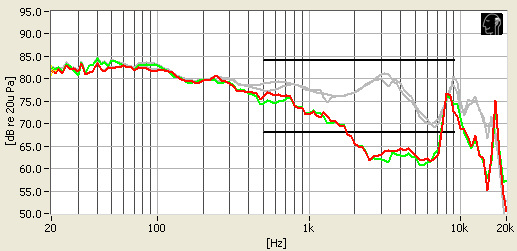 Without the inserts: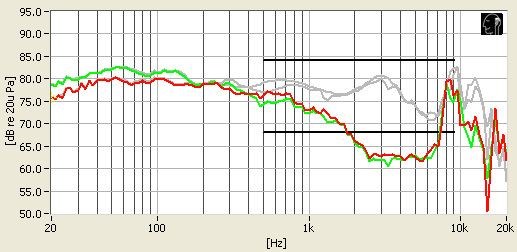 In any event, if you have refined ears, or if you're searching for a high-end flat response, the Monitors aren't quite there. For everyone else, the Monitors are likely right up your alley.
Distortion
Holy Toledo
This performance is something you don't see every day: The Marshall Monitors are nearly perfect across the board with regard to distortion—but only if you keep the inserts in. Even in the sub-bass range, where distortion tends to absolutely run amok, these babies barely breach 4%—really fantastic results.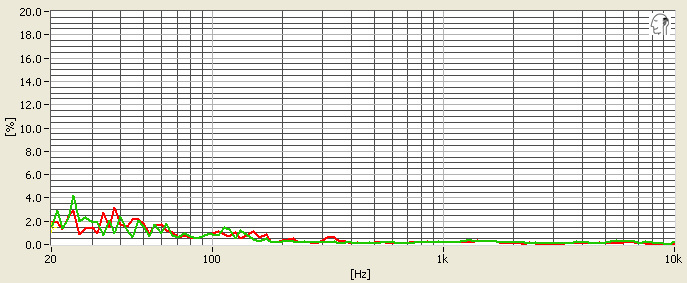 If you do take the inserts out, you can expect similarly great results, but not in the sub-bass range. To be fair, though, listeners are very unlikely to hear these sub-bass errors, since the human ear is very forgiving in said range: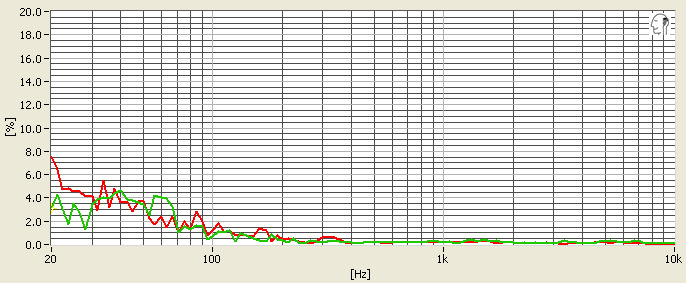 In fact, even if you were to crank your Lil' Wayne up past 107.53dB, your beats still wouldn't produce more than 3% distortion. But please, keep wee Mister Wayne below 100dB for safety.
Comparable Products
Before you buy the Marshall Monitor, take a look at these other headphones.
Tracking
Equilibrium
Many headphones struggle with tracking errors, or the imbalance of volume between left and right speakers. Sometimes, music can sound up to twice as loud in one ear as in the other, for example. But the Monitors skipped through these trials without a problem.
From bass all the way up to high frequencies, volume remains almost perfectly balanced in both speakers. Well done, Marshall. Results did not vary when I removed the inserts.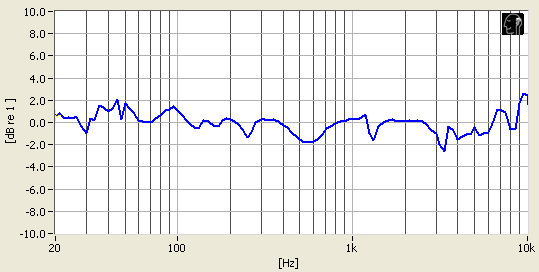 Noise Reduction
Quiet time
Barking dogs, yammering passerby, and other high-frequency irritants face quite the foe in the Monitor over-ears: These headphones reduce those outside high-frequency noises by up to 1/16 in loudness.
The guy next to you will be grateful to the Monitors too, as they barely leak a peep of your music.
Looking Further....
Our editors review and recommend products to help you buy the stuff you need. If you make a purchase by clicking one of our links, we may earn a small share of the revenue. Our picks and opinions are independent from any business incentives.