headphones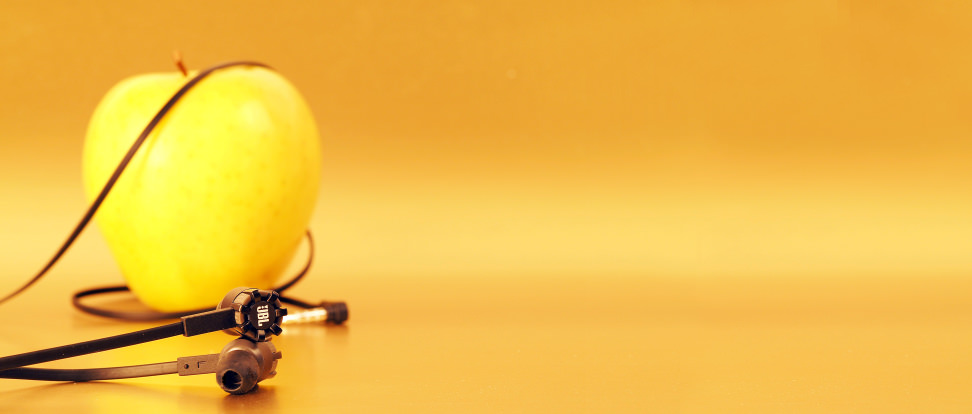 If you're in the market for premium in-ear headphones, you might want to consider the JBL Synchros S200i (MSRP $129.95). These iOS-compatible plugs are a step up from JBL's S100 series, and utilize 10mm speaker drivers.
Whether you go in for the S200i (for Apple devices) or the S200a (for Android devices), you're in for a good time. These JBL in-ears sound great, and are durable and comfortable to boot.
While a little pricier than some of the competition, they're a smart investment if you're looking for a notably balanced sound backed up by durable materials.
The Look
Sleek, durable, and portable
The JBL Synchros S200i in-ears—available in black or white—look and feel like they were constructed with care. The cable is wrapped in a durable rubber that's been flattened slightly, which helps it lay straight and resist tangling. The jack is quite sturdy as well, but the real prize is the construction of the speaker backs, which are a handsome set of molded spokes—like a bicycle.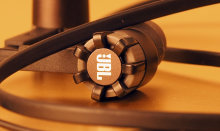 The S200i in-ears come with small, medium, and large silicone sleeves, as well as a pair of Comply foam tips.
For in-ears, they're fairly comfortable, and the sizing options mean most people should be able to find a good fit. JBL also throws in a small, circular storage pouch with one of the most discreet zippers I've ever seen.
Along the cable, users will find an adjustable shirt clip and a three-button remote with nicely textured buttons. The Y-split can be adjusted as well, and is guarded by heavy rubber. I'm not sure everyone will go for the slightly aggressive look of the bicycle spokes, but there's no arguing that these JBLs have a unique look and a sturdy build.
The Sound
Save for one small flaw, the S200i in-ears tested perfectly.
The JBL S200i in-ear headphones carry a higher price tag than average—they deliver great sound. Testing revealed a balance of emphasis for the entire frequency range. As consumer headphones go, the S200i deliver healthy bass support without neglecting the middle or treble ranges.
The S200i deliver healthy bass support without neglecting the middle or treble range.
I listened to a number of CD-quality tracks, everything from Andres Segovia to Daft Punk, and even some recordings I mixed myself. The test results were confirmed.
Bass and low middle sounds stand out prominently, but aren't treated to an overabundance of emphasis. Segovia's infamous rolled chords and glissando slides sound well-preserved, and even the string noise from the original vinyl recording sounds through. Electronic drums with stunning snare hits still pack a punch, but not enough to make you flinch. If you're into a flat, studio sound or majorly boosted bass, you may not love these in-ears, but otherwise there are absolutely no flaws in terms of emphasis.
With the right fit, the S200i block plenty of ambient noise, and leak none of their own.
With the right fit, these JBLs block plenty of ambient noise, too—and leak none of their own. The only place where the S200i in-ears could have performed better was in terms of balancing volume between the left and right speakers—they tend to favor the right channel, giving it more volume than the left. While this issue isn't obvious during most music, you might notice it during subtler content like solo performances or podcasts. That said, this is the only performance flaw we found.
Comparable Products
Before you buy the JBL Synchros S200i, take a look at these other headphones.
The Verdict
The gold standard
The JBL Synchros S200i headphones (MSRP $129.95) are at the top of the charts where in-ears are concerned. The sound they deliver is balanced and full, providing plenty of bass for low-end lovers, but making sure listeners with their heads in the clouds can still hear all of the highs. From thumping timpanis to trilling trumpets—and everything in between—the S200 headphones deliver.
The only drawback? For some, $130 is a little on the pricey side. Fortunately, JBL worked to justify the price by also employing a smart design and high-quality materials. Take a little care, and your S200i in-ears will look good and sound great for a long time.
Our editors review and recommend products to help you buy the stuff you need. If you make a purchase by clicking one of our links, we may earn a small share of the revenue. Our picks and opinions are independent from any business incentives.