headphones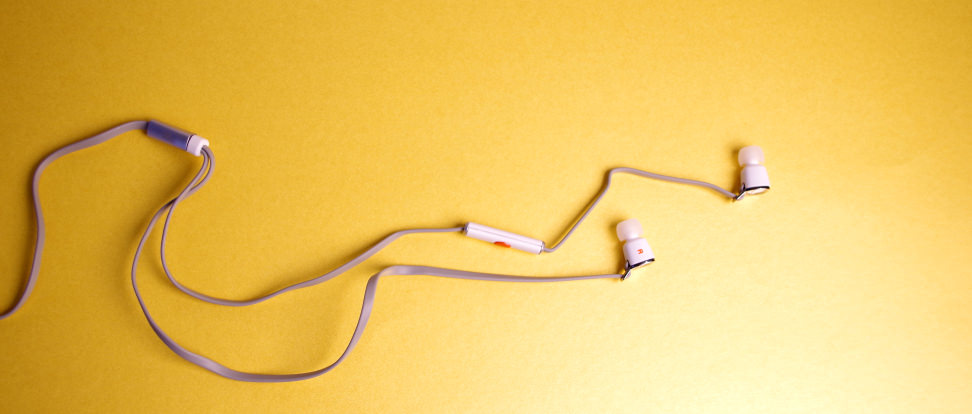 The JBL J33i is better than 50% of the headphones we tested.
It is better than 46% of the headphones we have tested under $100.
It is better than 36% of the in-ear headphones we have tested.
Meet the J33i
This week, we took JBL's J33i in-ears (MSRP $79.95) into battle to test their audio mettle. In case you aren't familiar, JBL is actually a division of Harman Industries. Yes, as in Harman Kardon and AKG—it's all under the same, well-versed hood.
A venerable reputation alone won't do much in our laboratory, of course, but performance will.
Turns out, the J33i put up a quality fight. Like the very similar J22i model, these headphones earned great marks in the lab, impressing us with factors like portability, noise cancellation, and build quality. Most listeners will be more than pleased with this soundscape, especially anyone with a bit of bass lust.
The Outfit
More practical than fashionable
The J33i in-ears certainly aren't the flashiest set in town, but the design is still quite attractive and practical.
Press the remote's middle button for a moment to summon Siri.
Listeners will get plenty of use from the three-button remote/mic, for instance: Without reaching for your pockets, you can easily skip that song you're sick of, increase your volume, or answer your phone.
There are actually two different versions of these headphones—the J33i for iPhones, and the J33a for Androids. If you own the first, you can press the remote's middle button for a moment to summon Siri. If you own an Android, the J33a offers a standard universal remote—no volume control for you.
As for the sturdy cable, it sports a flat contour that reduces tangles. Tack on the little shirt clip to avoid unwanted tug and you're almost in business.
Be sure to peruse the four different speaker covers.
Before you get to listening, though, peruse the four different speaker covers. One is made of foam, which users compress and insert. After a moment, the foam expands again for a more customized fit. If those are too big or too small, there are three other sizes of same-shaped silicone sleeves to choose from, too. I wish there were more shapes, and maybe one even-smaller size, but this is still a very nice selection that should suit most.
If you need to commute with the J33is, just tuck them into their palm-sized, zippered carry case to keep them from harm. The materials are all quite nice, and the jacks and other vulnerable points are fairly well protected, but a carry case will always help preserve your headphones from unnecessary wear and tear. Rounding out the nice design is the fact that the 1/8 plug is gold-plated—always an appreciated touch.
The Audio
Trendy quality to please most, with a minor blemish or two
With the sole exception of noise cancellation, the J33is perform almost the same as their sibling, the J22i. So right off the bat, unless peace and quiet is a big part of what you're after in a set of in-ears, definitely take a look at the other model—maybe you'll save a buck, maybe not, prices vary online.
There's plenty of emphasis on the low end, but big focus on middle and high notes too.
That said, in terms of their actual audio quality, the J33is are likely to please many. Refined ears won't take kindly to a bass range as big and loud as this one, but most listeners these days want exactly that. These JBLs put plenty of volume emphasis on the low end, so that bass really booms, but there is also big focus on middle and high notes.
Some of the highest notes are _so_ prominent that you'll likely find yourself turning down the volume because of slightly abrasive cymbal crashes and the like.
The result is a very bass-driven sound profile supported by prevalent middle and high notes. However bassy a song may be, you'll still hear chimes, vocals, snares, and violin strings, no problem.
In fact, some of the highest notes are so prominent that you'll likely find yourself turning down the volume because of slightly abrasive cymbal crashes and the like. Occasionally, the "s" sounds on vocals were enough to make me flinch and tick down my volume. JBL could have gone a bit easier there.
As to the rest, distortion-free listening is a major perk. From the lowest to the highest notes, music goes unhampered by clipped harmonics or added junk—well done JBL.
Comparable Products
Before you buy the JBL J33i, take a look at these other headphones.
The Long & the Short
Sibling rivalry
At the end of the day, the J33i has a starting price of $79 while its relative, the J22i, starts at $59. What's the difference? Both do a great job quieting the noises around you, but the J33i does a slightly better job, thanks to the included foam tips.
And like its relative, there isn't much to complain about when it comes to the J33i. Higher notes can really hiss at times, which may have you turning the volume down even when you don't want to, but otherwise things sound great. Bass is quite eminent, but doesn't overpower delicate middle and high notes. On top of that, everything is distortion-free. Add on great design, portability, and quality parts—what's to complain about?
Maybe the better question is, what else is out there? Competition, that's what. If you're a determined bargain hunter, you could get the same great sound for a much lower price by compromising build quality, for instance. Yet for all that, the J33i's performance and build quality are top notch—and sale prices of around $40 online make the deal that much sweeter.
Our editors review and recommend products to help you buy the stuff you need. If you make a purchase by clicking one of our links, we may earn a small share of the revenue. Our picks and opinions are independent from any business incentives.