headphones
JBL J22i review
Above-average sound, portable package
$59.95 MSRP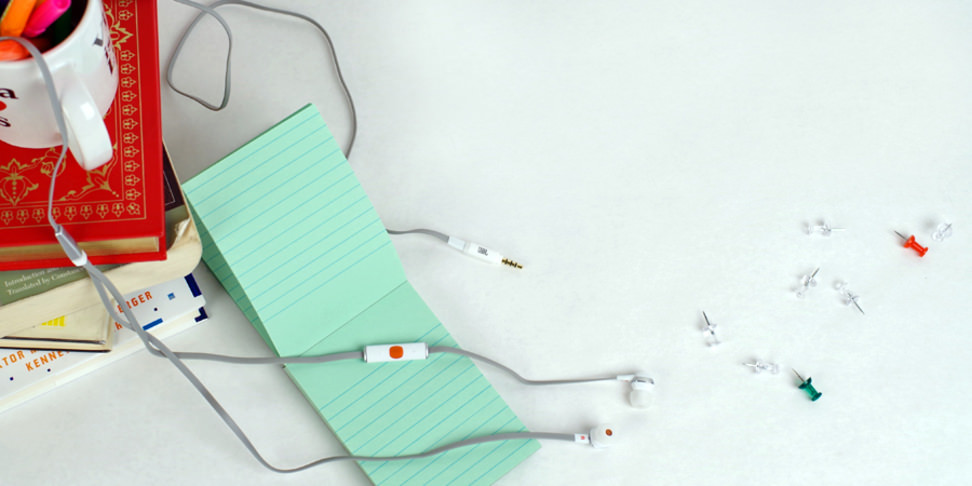 Overview
JBL came to life during America's mid-40s manufacturing mania. Through the decades, the company fostered successful relationships with illustrious suitors like Fender and Toyota, and even made a name for itself in Hollywood with its loudspeaker systems.
We spent time with JBL's J22i ($59.95) this week, and though these in ears may not look like much, the sound is really worth a listen.
Audio Quality
Mostly positive results
The J22i doesn't look like much, but the audio quality is better than expected. For under 60 bucks, the lab results are quite pleasing.
Let's start with the frequency response; it isn't suited for studio needs, but the consumer ear should be more than satisfied with the results. From deep-down bass notes, to mids, to highs, these headphones produce very desirable sound. Bass is prominent and accurate, vocals come through clearly and audibly, and high notes are pretty much perfect, as well. Impressive. Normally we find segments of the frequency range that are over- or underemphasized, but problems of this sort just aren't an issue here.
Throughout basically the entire range, volume is louder in the right ear.
Yet before we award any medals, we should discipline the trouble makers. I found mildly audible distortion around the upper midrange that pesters vocals, horns, flutes, guitars, and the like—and the trouble doesn't end there. Throughout basically the entire range, volume is louder in the right ear. It doesn't ruin the listening experience, but it definitely casts a damper over the otherwise close-to-perfect performance.
Lastly, high frequency sounds like chattering birds or squeaky wheels are effectively blocked by the J22i, but low frequency noises like rolling carts or rumbling engines will definitely interrupt your listening.
Features & Handling
A commuter's customizable cup of tea
The J22i is built for travel. The 4.3-foot cable resists tangles, houses a remote for controlling tunes and phone calls, and even ships with a little shirt clip to minimize tug. Additionally, users can cinch the Y split to better suit their needs. Listeners will enjoy great noise blocking when it comes to high pitched annoyances, but don't expect the subway's low rumblings to be stopped in their tracks (pun intended). As for the office, these are practically perfect: Leakage is nearly nonexistent, so blast those nerdy show tunes all you want. Listen to some Biebs. No one will know.
The J22i includes three sets of silicone sleeves to suit a range of ear sizes.
Best of all, the J22i includes three sets of silicone sleeves to suit a range of ear sizes. This came as a particular relief to me because I can never get ear buds to stay put; with the miniature set of silicone covers in place, I found a snug, comfortable fit. For all that, though, I still don't relish an ear-full of plastic—especially with extended use. The J22i comes in white and black—both with cheery orange accents.
The materials... not so fabulous. The cable isn't detachable—so handle with care—and the combination of rubber and plastic parts doesn't offer much in the way of overall durability. Thankfully, JBL includes a protective leather carry pouch that fits in the palm of a hand.
Comparable Products
Before you buy the JBL J22i, take a look at these other headphones.
The Long & the Short
Sale away with me, honey
A frequency response like what the J22i delivers is worth a second look, and the customizable features serve as the cherry on top. Have trouble getting ear buds to stay in place? JBL includes three silicone covers to suit different sized ears. Hate how your cable always tangles when you're jogging at the gym? This one effectively resists knots with its flat contours.
The only thing holding me back from shouting "J22i!" from the mountain tops is its loudness errors; for some reason, the right speaker is consistently louder than the left. It doesn't ruin the audio quality, since the problem is fairly mild, but it certainly hampers it.
In a word, I recommend waiting for a sale. With worthy competition like the Sol Republic JAX offering similar sound for 20 dollars less, there's no sense in snatching up the J22i for its full asking price of $59.95.
Our editors review and recommend products to help you buy the stuff you need. If you make a purchase by clicking one of our links, we may earn a small share of the revenue. Our picks and opinions are independent from any business incentives.