headphones
Harman Kardon NC Review
The Harman Kardon NCs are great isolators with style.
$349.95 MSRP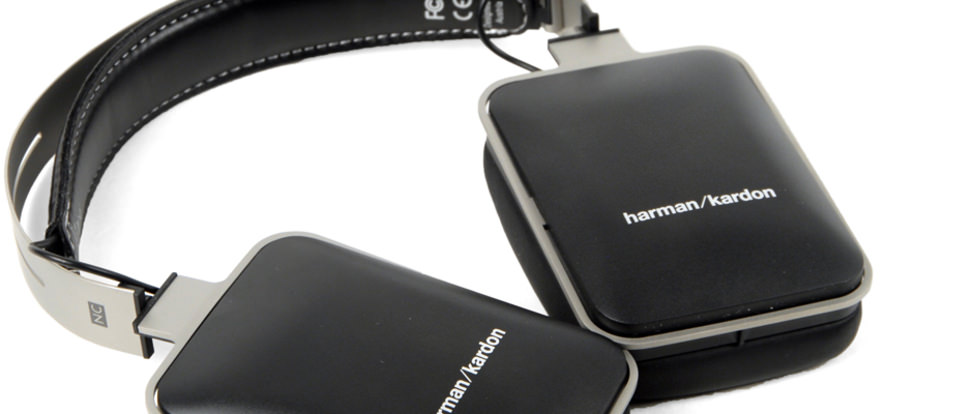 The Harman Kardon NC is better than 40% of the headphones we tested.
It is better than 41% of the headphones we have tested under $400.
It is better than 46% of the over-ear headphones we have tested.
Introduction
We got a first look at CES, but the Harman Kardon NCs have been released, and we got our paws on them to test. With noise cancelling headphones, there's always a high price to pay for performance, and all things considered, you should be happy with these cans if you're often in environments with high levels of outside noise.
Comfort, Design & Features
They're like a well-tailored suit for your head.
Once you've figured out what band fits you best, the Harman Kardon NCs are fairly comfortable given the surface area that comes in contact with your head. If the fit isn't so great, the comfort level will sharply decline due to the band, but that happens with any set of headphones. The leather strap is actually only attached to the band by two points near the ear cups, so there's some play between where the band touches your scalp and the exterior metal. Over time, the headphones themselves will remain comfortable, but the sheer weight of the unit can get taxing after a while. Your mileage may vary, however, so see if you can't get out to a brick and mortar store to try a pair on.
One of the biggest items in the plus column for these headphones is their ability to be easily maintained.
Harman Kardon is definitely going after the crowd with a bit of money to spend, and it shows in its headphones' design. Despite their very large size and boxiness, they don't rub your nose in flashy features, and sport a black matte design that will fit in even in first class. Because there is no much that is replaceable with the Harman Kardon NCs, and they're made of very sturdy materials (including metal), you're unlikely to break these with casual use.
One of the biggest items in the plus column for these headphones is their ability to be easily maintained. Not only can you remove or replace the cable easily, but you can also pop off the ear pads and put them on again at will in order to clean them. Often headphone owners will have to fiddle, futz, and break things in order to do this, so the magnetic system devised by Harman Kardon is quite useful.
As we mentioned in our First Impressions reviewof the Harman Kardon NCs, the technical design of the active noise cancellation unit is quite clever, and from our tests seems to be fairly effective. By using multiple microphones, the headphones are able to get a better sample size of what noises reach your ear without cancellation, and then gets to work. It is true that these cans block out a significant amount of noise on their own, but a 20dB reduction in noise in the bass range is nothing to sneeze at.
Audio Quality
Impressive for an ANC set of headphones.
Considering that active noise cancellation has inherent difficulties in the performance department, the NC's performance is fairly impressive. The best performance we were able to collect in the lab came while the active noise cancellation circuit was enabled, so we recommend using that whenever possible. The frequency response itself is fairly dynamic, but within reason. This does mean that the claim that the frequency response is somewhere in between a studio response and an equal loudness curveis bunk, however.
These cans block out a _ton_ of sound: The passive attenuation is fantastic, and the active cancellation makes it even better.
That's not inherently a bad thing, as it tends to be closer to an equal loudness curve, which most listeners will gravitate towards anyways. If that was the aim, the Harman Kardon NCs underemphasize some of the high mids and high notes, but overall the response is something that should be agreeable when you consider just how much noise it blocks out, and that most active noise canceling headphones aren't this good when their ANC units are turned on.
These cans block out a ton of sound: The passive attenuation is fantastic, and the active cancellation makes it even better. If you're a jetsetter and need something to protect your ears from engine noise, you can make it all but disappear with a 20-45dB reduction in intensity, and that's extremely significant, and among our top performers in this category. With the noise cancelling enabled, you're not going to be listening to your music loudly, so you probably won't be annoying those around you either.
Comparable Products
Before you buy the Harman Kardon NC, take a look at these other headphones.
Conclusion
Fantastic Active Noise-Cancelling headphones.
It's easy to deride a pair of headphones for focusing too much on design and not audio, but Harman Kardon, parent company of JBL and AKG, has fielded a solid offering that straddles both. Active noise cancellation carries some inherent performance drawbacks due to the fact that it uses what's called destructive interferenceto cancel out noise. Distortion in headphones that use this is typically very high, and the frequency response is also affected.
For the Harman Kardon NCs, these inherent drawbacks are minimized, and the result is something that would be great for an airplane ride or noisy subway. It's very well-engineered, and attractive to boot. However, it should be noted that these are meant for casual music listening, and not for studio mixing or production. Just keep that in mind, and you'll enjoy these headphones if they sound like they'd suit your needs.
If you're looking to blow a substantial amount of cash on a set of headphones that will make you dead to the world, while still looking good, the Harman Kardon NCs are certainly worth a look. It's a lot of money to spend on headphones, so be aware that you're paying for solid noise cancellation, and not completely flawless audio.
Our editors review and recommend products to help you buy the stuff you need. If you make a purchase by clicking one of our links, we may earn a small share of the revenue. Our picks and opinions are independent from any business incentives.