headphones
Final Audio E2000 In-Ear Headphones Review
These affordable earbuds provide great sound quality for the price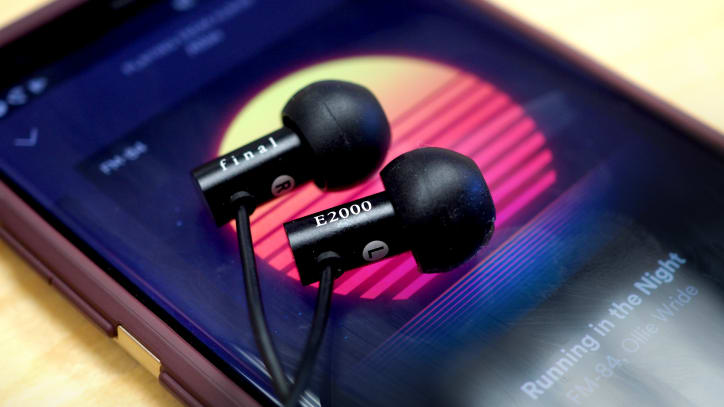 Credit: Reviewed.com / TJ Donegan
Few people I know love their earbuds. Either you're using the tinny ones that came with your phone, or you bought some wireless earbuds that always seem to drop connection, or you bought a half-decent pair that is, well, half-decent. Sure, there are $150 and $200 earbuds that promise amazing sound quality, but do you really want to spend that much on earbuds?
If that sounds like you, then give the Final Audio E20000 (available at Amazon for $44.90) a spin. Though they don't have the features of some of our favorite higher-end earbuds, they offer truly superb sound quality for just $50. Rich bass, crisp highs, great separation (for earbuds), and a comfortable fit—the E2000s have it where it counts.
There are some downsides, of course: there's no in-line control for skipping tracks; the wire connecting to each 'bud doesn't have much protection; and the cable is just a standard material that is bound to get tangled in your bag. But for $50? We're not complaining. If those things bother you we'd recommend jumping up to the life-changing 1More Triple Drivers for around $99. For everyone else? Plunk down your $50 and hang on for the ride.
About the Final Audio E2000
The E2000s are made by Japanese company Final Audio Design. They're simple in-ear monitors that feature a 3.5mm connector, two earbuds, and a standard wire. There is a movable neck split to help wrangle the cable, but otherwise these are as basic as earbuds get. Here are the specs according to Final Audio:
Driver: 6.4mmΦ dynamic driver
Sensitivity: 102 dB/mW
Impedence: 16Ω
Weight: 12 grams
Cord Length: 1.2 meters
Advertisement - Continue Reading Below
What We Like
Punchy sound, with rich bass
Look, before we get too carried away: the Final Audio E2000s aren't mind-blowing in the sound quality department. We've tested plenty of headphones this year that sound better and perform better in our tests. But they are absolutely stunning for $50.
For starters, the most surprising thing to my ears is just how clear and rich the bass is. Tracks with lots of bass emphasis—especially those with acoustic guitars or live drum tracks—sound great. A track like Da Rockwilder, which features a strong bass line, lots of heavy production, and a variety of sound effects, holds up extremely well.
The only thing that I do find a little bothersome is their tendency to overcook some prominent high-frequency sounds like snare drums or claps. It won't show up in every song or mix, but in particular more compressed tracks like those you'll see on Spotify seem to be the worst offenders. It's an issue I notice on plenty of cheap headphones—and the E2000s are better than most in this regard—but it's something to be aware of.
A compact, lightweight design with excellent isolation
One of the biggest misconceptions people have about headphones is thinking you need noise-cancelling headphones to most effectively block out sounds around you. In truth, the best way to block out ambient noises is to physically block them out. And earbuds are perfect at that.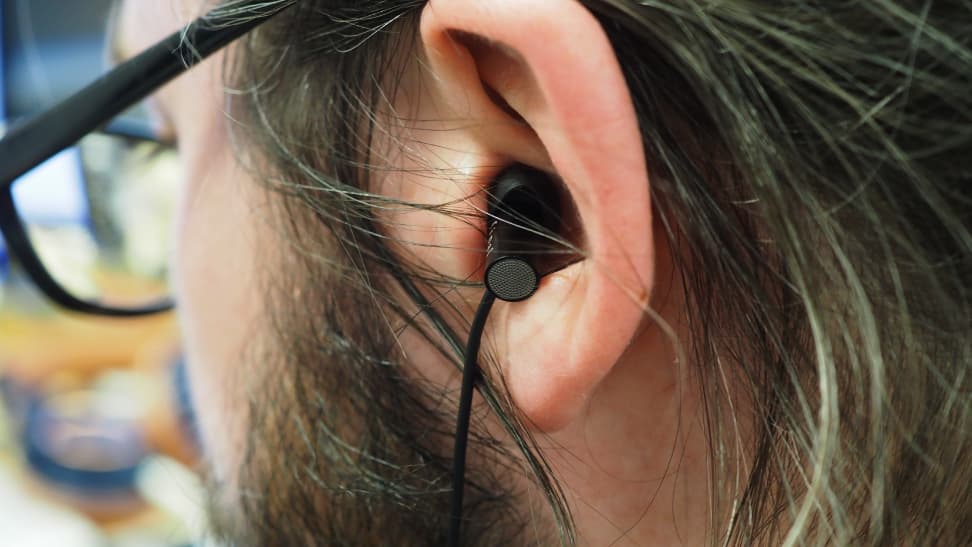 The E2000 features a pair of small, no-nonsense earbuds that are barely bigger than the included driver. The thin, cylindrical design and the range of included tips means you can get the buds fitted snugly in your ear without much trouble. If you get a truly snug fit, the E2000s will be as effective at isolation as most noise-cancelling headphones.
One thing to note here is that you're going to get much better results if you use a foam tip compared to the basic tips that come with the E2000s. Foam tips such as these from Comply are a cheap upgrade that can make any pair of earbuds sound much better.
The price simply can't be beat
If you walk into a store looking for new headphones, chances are you're going to wind up going down one of two paths: paying too much for wireless earbuds that don't sound great and tend to break after just a few months of regular usage, or cheap earbuds that you're going to treat like they're disposable.
That's why we love what the Final Audio E2000 represent: an affordable option for people who don't want to spend a bundle but also are okay investing a little bit of money to get better-than-average sound quality. While I would highly suggest people consider jumping up to the 1More Triple Drivers if you can afford it, for people on a tighter budget the sub-$50 E2000 is just stellar.
What We Don't Like
The cable is only ho-hum
The E2000s sound great, but it's clear where Final Audio cut corners to keep the price down. Unlike most headphones these days, the E2000s don't have any in-line controls. That means you'll need to pull your phone our whenever you want to change the volume, skip tracks, or do anything else that fancier headphones can do.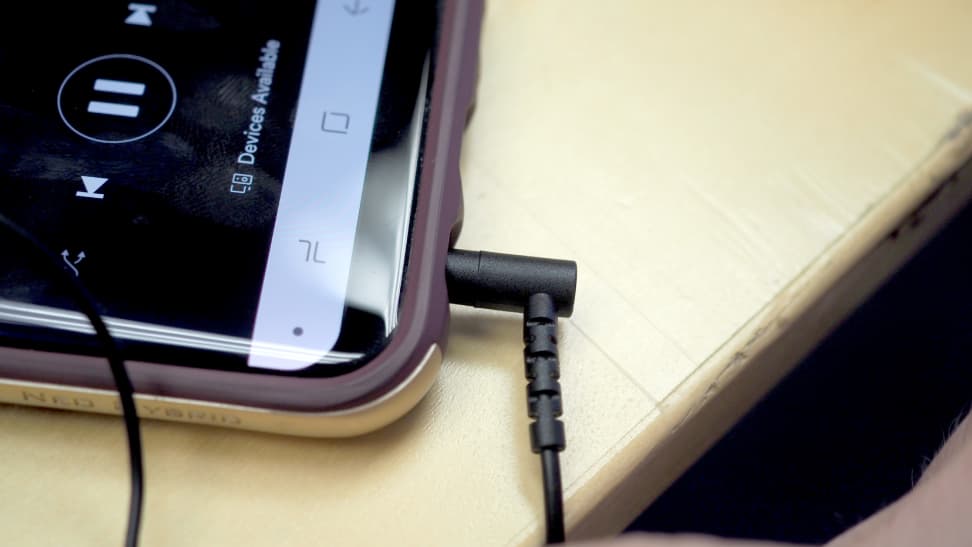 While you may not think that's a huge deal, it's annoying if you listen to your phone on the subway and don't want to pull it out all of the time. That's doubly true in the winter when you may want to just keep your entire life bundled up until you get to school or work. And if you run with your smartphone in an armband? Forget about it.
Even if you don't need the in-line remote, the cable is still just a standard cheap material. Though it's no worse than other affordable earbuds, it isn't made of thicker material that would resist tangles. It only took a few seconds to untangle them when they were in my bag, but it's an annoyance nonetheless.
These may not be super durable
Rating durability is extremely hard with headphones, because we don't have a chance to put more than one set of each pair of headphones through hands-on use. I will say the E2000s didn't give us any trouble over the few weeks I used them, but the design gives me pause.
The main issue for me is where the wire connects to the earbuds. Many buds feature some kind of sheathe that protects the cable from bending at awkward angles. The cables on the E2000's cables just kind of end with the buds, and it's unclear how secure that connection is.
User reviews don't seem to suggest there are any long-term concerns—nearly all of Final Audio's products are highly reviewed online—but you'll want to exercise caution anyway.
Should You Buy Them?
Yes! They're the best earbuds under $50 we've tested
For most earbuds, the question of "should you buy them?" involves a nuanced discussion of where they fit in the market and what they offer relative to their peers. With the E2000 it pretty much comes down to one question: do you want the best headphones under $50? Get the Final Audio Design E2000.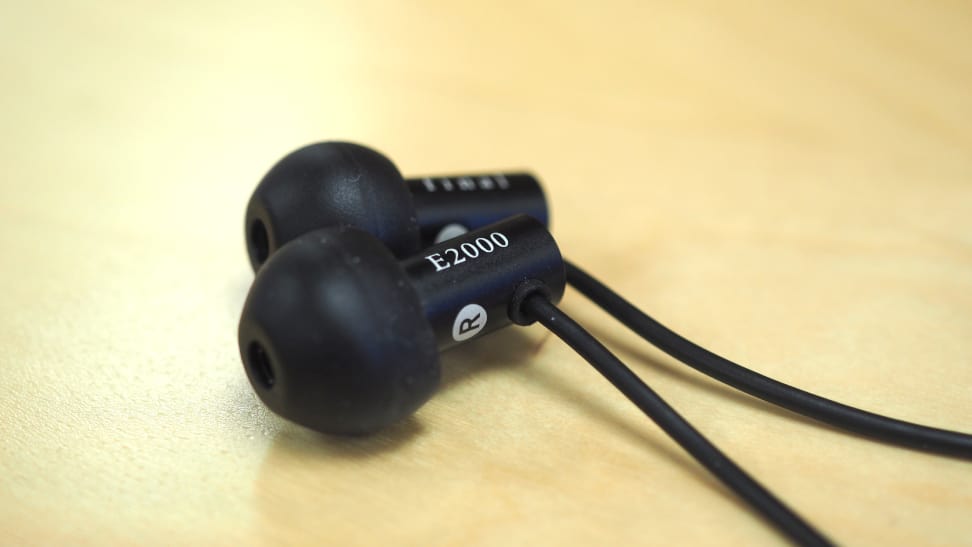 Of course, there are other options that may be better for particular circumstances. If I had $100 to spend I'd absolutely get the more expensive 1More Triple Drivers and never look back, and workout warriors will likely prefer a model with in-line controls. Final Audio has announced an updated E2000C with an in-line remote button, but it hasn't hit the market yet.
But for everyone else looking for the best cheap earbuds they can find, the answer is clear: buy the Final Audio E2000.
Our editors review and recommend products to help you buy the stuff you need. If you make a purchase by clicking one of our links, we may earn a small share of the revenue. Our picks and opinions are independent from any business incentives.
Our editors review and recommend products to help you buy the stuff you need. If you make a purchase by clicking one of our links, we may earn a small share of the revenue. Our picks and opinions are independent from any business incentives.
Advertisement - Continue Reading Below
Compare Prices
Our editors review and recommend products to help you buy the stuff you need. If you make a purchase by clicking one of our links, we may earn a small share of the revenue. Our picks and opinions are independent from any business incentives.
Get Our Newsletter
Real advice from real experts. Sign up for our newsletter
Thanks for signing up!