headphones

The earHero in-ears is better than 0% of the headphones we tested.
It is better than 0% of the headphones we have tested under $200.
It is better than 0% of the in-ear headphones we have tested.
Mining for Data
The earHero flunked test after test, but all in the name of safety. Safe public listening comes with costs: The frequency response is essentially devoid of bass, for starters. Distortion is problematic in certain areas too.
At the end of the day, these headphones produce very troublesome sound, but at least they offer a safe way to listen.
Frequency Response
A farewell to bass
If you want to bicycle to Biggie's booming bass, you'll have to do it haphazardly—and on a different set of headphones. In order to admit outside noise, the earHero obliterates bass, leaving listeners with mid and upper notes largely unsupported by low frequencies of 20Hz-500Hz. In fact, even part of the midrange is underemphasized; notes in the 500Hz range are about 10dB below where they ought to be, in the traditional sense. Of course, earHero minimizes this area on purpose, to let in that outside noise.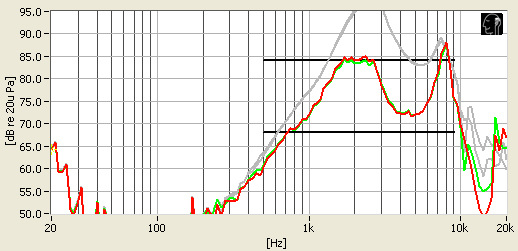 As for the rest of the response, from 700Hz to 10kHz, sound mostly falls within our accepted limits. But the response is far from flat; music in the 1kHz to 3kHz range and notes at 8kHz (high mids and uppermost notes on percussion, some woodwinds, and vocals) will sound twice as loud as those in the 4kHz to 5kHz range (upper mids on strings, vocals). Honestly, though, the main point and the only thing you're going to notice is that without bass, your music sounds extremely unnatural. The rest of this seems like nitpicking next to that glaring, inescapable fact.
Noise Reduction
Honk, bark
Most people put headphones on to block noise out, but what if you're heading home after dark? You don't want to wander around unawares—best to know what's happening around you and enjoy some Zeppelin. To put this function into perspective, many consumer headphones block out more than an average of 10dB of outside noise; the earHero just blocks an average of 2.9dB.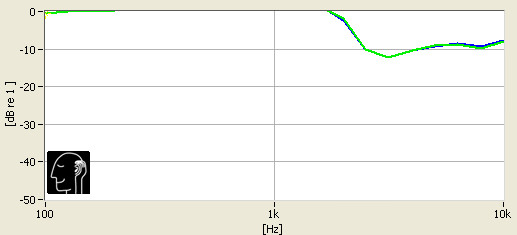 Thus, low frequencies like that of a careening Greyhound bus are not reduced at all, and high-pitched noises like beeping and nearby conversations are reduced by roughly half. Again, many headphones reduce high-pitched sound to 1/16 its original volume, so this noise-blocking is really very mild.
Comparable Products
Before you buy the earHero in-ears, take a look at these other headphones.
Distortion
Altering the sound signal
Unfortunately, obliterating bass isn't the only way in which your music will suffer with the earHero in-ears. Of course, what you see on the graph is not as dramatic as it would normally be: Yes, sub-bass distortion rears its dreaded head at upwards of 90% in the sub-bass range—but you don't hear the sub-bass! Remember?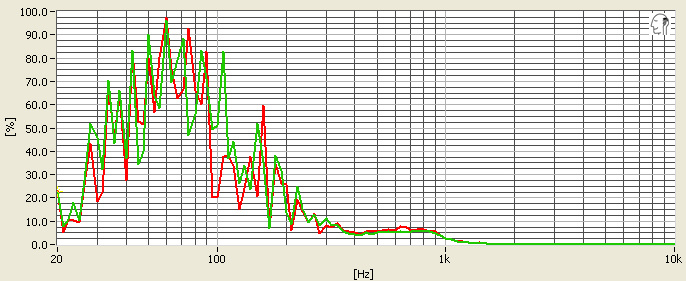 Let's look at the portion of the frequency response that matters: Unfortunately, from 600Hz to 900Hz, there is still a measure of audible distortion—as much as 7.5%. So on top of bass-less tunes, expect to hear distorted mids, too. And the max sound pressure level? Most of the time, this measure lands around 100, but in this case it's 68.41dB, so listen on low to keep distortion below 3%.
Other tests...
Our editors review and recommend products to help you buy the stuff you need. If you make a purchase by clicking one of our links, we may earn a small share of the revenue. Our picks and opinions are independent from any business incentives.