headphones
Bose QuietComfort 3 Headphones Review
The Bose QuietComfort3 headphones are hard to review objectively. They don't offer stellar audio quality by any means.
$299.00 at Amazon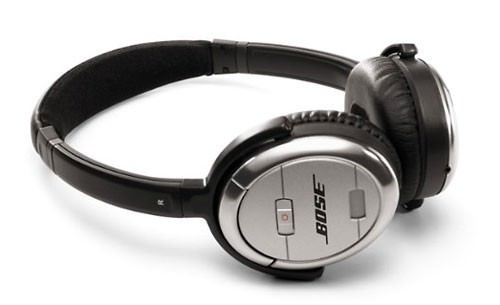 Tour
The cups on the Bose QuietComfort 3 headphones are 2.68 inches tall, 2.14 inches wide, and 1.3 inches thick, including the padding. Their backs are silver with black branding, and the back of the right cup has both a slot for a battery pack and a power switch. The back part of the left cup has a bit of a recess where the 2.5mm jack is located. The cups can both twist and tilt. From their storage position, they have about 100 degrees of movement; they can tilt about 45 degrees. The cups are made of black pleather with a cloth center, stretched over a foam pad and plastic framework. These pads can be removed, revealing a metal ribcage and a rather exposed sound element.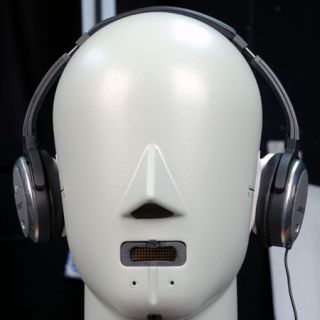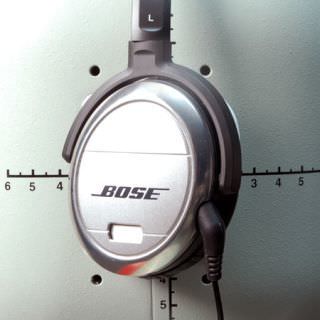 The band is a black plastic with a metal interior. The top of the band has a foam pad covered in black cloth on its interior, with padded pleather on its outside edge.
The cord connects to the headphones at their recessed 2.5mm jack. The end that plugs in to the headphones juts out at a 45-degree angle. The other end of the cord is more traditional: it truncates at a 3.5mm plug that has a 90 degree bend in it. The cord itself is about 0.078 inches thick and more than four feet long.
In the Box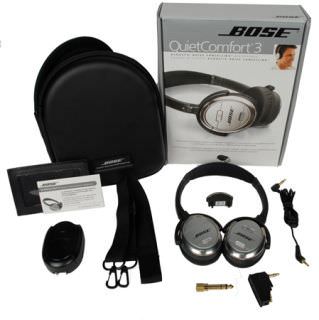 The QC3's box is packed with different items besides the headphones, cord, and battery. First, there's a fairly compact battery charger that resembles a small, non-scented Glade plug-in. Just in case the first cord isn't enough, there's an extension cord which more than doubles your cord length. There are also two plugs: a 3.5mm to 1/4-inch plug and an airplane jack adapter with two 3.5mm jacks. Lastly, it comes with a semi-rigid carrying case (with optional shoulder strap) that the headphones and its accessories fit into.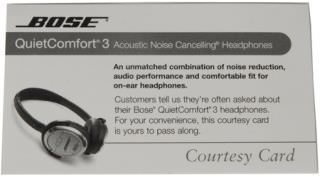 As an added bonus, inside the case are a few Bose courtesy cards. The cards have pictures of the headphones, Bose branding, and 20 Bose phone numbers on the back. The cards instruct you to hand them out to all who ask about your headphones. This section doesn't receive a score, but if it did we'd take off points for this lame attempt to turn its customers into unpaid solicitors.
Durability
We don't see any glaring durability issues on the Bose QuietComfort 3 headphones, though it does have some smaller issues. For one, the band isn't collapsible, which means it runs the risk of being permanently bent if you handle them roughly. It does, however, seem very strong; its metal core has some give to it, but retains its shape very well. The top of the band, like the cups themselves, has some pleather, foam, and cloth in it. While softer, fabric-like parts are more susceptible to wear and tear, we weren't able to easily tear anything on the QC3s.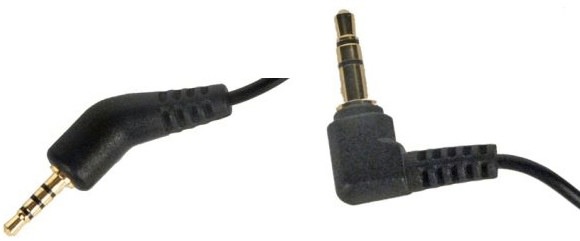 The cable is made of black plastic and seems durable. We pulled at it pretty hard and it didn't feel as though it was going to break. The plugs have very robust guards that manage to be thick without sacrificing too much flexibility.
Overall, we'd say these headphones are very well manufactured.
Comparable Products
Before you buy the Bose QuietComfort 3, take a look at these other headphones.
Aesthetics
Say what you will about Bose, they make some attractive-looking headphones. The metal and plastic design simply looks well built, and the pleather and cloth certainly make the QuietComfort 3 headphones look expensive. They are, like most on-ear headphones, a bit prominent. If you're looking for a discreet listening experience, you should be looking for in-ear buds. If you don't mind wearing stylish ear muffs when you listen to music, however, the Bose QuietComfort 3 headphones are a great head accessory.
Our editors review and recommend products to help you buy the stuff you need. If you make a purchase by clicking one of our links, we may earn a small share of the revenue. Our picks and opinions are independent from any business incentives.
Sections