headphones
Beyerdynamic Custom One Pro Review
Beyerdynamic rolls out a fascinating set of headphones allowing you to change the frequency response.
$249.99 at Amazon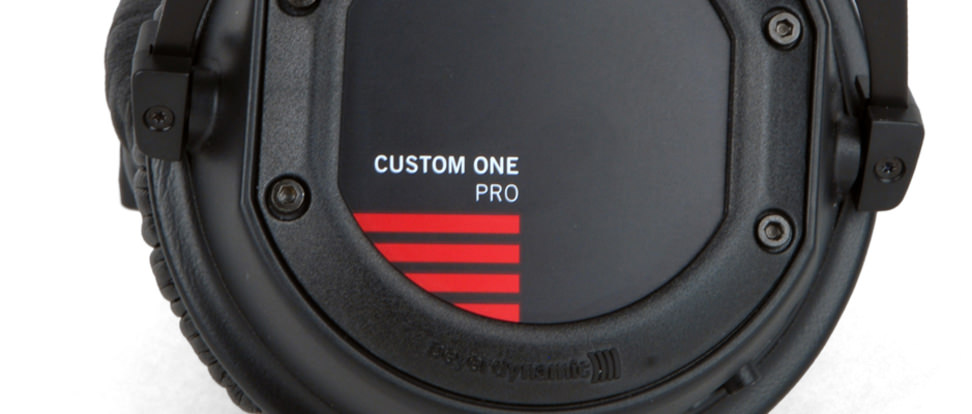 Get Psyched
Because these cans have a user-customizable performance, there's a lot of ground to cover. Changing the frequency response will suit different users more than others, but there are some minor consequences for each setting that you should be aware of. If it seems like I'm too focused on this, it's because I care, okay?
Buckle in, this is going to be a long one.
Frequency Responses
The prospect of choosing a frequency response that is right for you can be tough, but it's always good to have options. For owners of the Custom One Pros, getting to choose your frequency response on the fly is an enormous check in the "pro" column. Don't worry, these graphs are going to change to something a bit easier to read in the future.
Setting One

This is the first option available to you that will sound like it doesn't have much bass at all. That's okay really, and well-suited for listening to radio shows and podcasts. For whatever reason, the response peaks rather dramatically at 200Hz, but overall this is an acceptable response, with peaks in the high harmonics typical of consumer headphones, but a dip in the 4-6kHz range that will make some harmonics and cymbal splashes sound about half as loud as they would in a room with you.
Setting Two

Users looking for a more flat response will probably gravitate towards this one, as it keeps a somewhat even response across the range of audible frequencies. There are peaks at 200Hz and 9kHz, but not as pronounced as they are in the first setting. Additionally, there is a minor underemphasis in the 4-6kHz range that's about 7 or 8dB, which is also less prominent than it is in the first position. Bass response is a tad underemphasized in relation to the rest of the response, however.
Setting Three

Another flat-ish response, this position maintains the lower notes a bit better than the second slider position, though it has some tracking issues that are a bit perplexing. In the low end, the average response is slightly emphasized in comparison to mid tones, but the tracking makes the left channel about 5dB louder than the right channel in most places. You may not notice it, but it's there.
Setting Four

The bassiest of the four settings, this thing pumps up low-end sound to a heavy emphasis, but keeps the mids flat until the high end peak that is present in every setting. This is great for people who love rock music or just really love bass, as these headphones manage to bump up the lower frequencies without doing the same for distortion.
Distortion
While distortion doesn't really register all that much no matter what position you have your sliders, for the sake of completeness we've included every reading. None of these measures are audible, and they rank among some of our lowest ever recorded.
New to our battery of tests is Perceptual Harmonic Distortion—because most headphones have some level of distortion no matter how good they are, it's probably useful to see what someone could actually hear at a normal listening volume, while accounting for the way our ears transcribe sound. While there's some debate at what level of sound the distortion actually becomes perceptible, you can usually count on 15-20 phons of buzz to be just barely audible. These headphones—even at their absolute worst—do not even come close to this level, so you can count on no audible distortion.
Theoretically, if you were to crank your tunes to 125.9dB, you'd hit a 3% level of general distortion, which becomes quite annoying. Don't do this—you'll not only hurt your own hearing, but you'll quiet the world around you forever.
Comparable Products
Before you buy the Beyerdynamic Custom One Pro, take a look at these other headphones.
Isolation
Because these cans make a great seal on your head, they block out 10.2dB on average of outside noise, and that's a huge plus not only for your music, but also your hearing. That's enough to make everything sound about half as loud as it would without any headphones on. I should point out, however, that the noise attenuation isn't even for every frequency, so low-end sound will be let in almost unimpeded. All sounds from 200Hz and up will be reduced by 20-30dB, making that noise 1/4 to 1/8th as loud as they would be without any cans on your ears.

Other Tests
So, we threw everything but the kitchen sink at these headphones, but there's still more that we haven't really discussed, or we're collecting more data on. We haven't made scoring algorithms for the new tests yet, but it's useful to note results as they come in so we can go back and add the scores later.
Our editors review and recommend products to help you buy the stuff you need. If you make a purchase by clicking one of our links, we may earn a small share of the revenue. Our picks and opinions are independent from any business incentives.