headphones
Beyerdynamic Custom One Pro Review
Beyerdynamic rolls out a fascinating set of headphones allowing you to change the frequency response.
Meet the Custom One Pro
An interesting headphone to be sure, the Beyerdynamic Custom One Pro (MSRP $229) offers its users a level of customization not previously seen among the company's other offerings—and I've got to admit, it has a lot to offer customers looking to make the jump into a more serious set of headphones. While some may call these a jack of all trades, it isn't true that they're an ace of none.
Video Review
Advertisement - Continue Reading Below
Design & Features
Swiss-Army... Headphones
From the chassis to the audio performance, the Custom One Pro was built for customization. Not only can you take the ear cups apart to install your own faceplates, but you can swap in your own cable if the included one breaks, which is a huge checkmark in the durability column. On top of all that, you can switch between four different sound settings by using the sliders on the backs of the ear cups.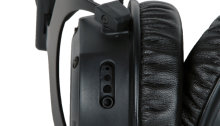 Headphone consumers have made it known that aesthetics matter greatly in their purchasing decisions, and we're starting to see headphones that allow for more customization, which is an effective way to appeal to said consumers. It's certainly fun to mess around with something and really make it yours, which the Beyerdynamic Custom One Pros do well.
While music lovers who've had things like bass boost since the 80s have had a certain degree of control over how their headphones sound, Beyerdynamic equipped their Custom One Pros to fit a more realistic range of preferred uses. The ability to change how they sound on a whim makes for a set of cans that takes all the guesswork out of buying a set of headphones—if you buy them, you don't have to simply hope you like them, you know you can change whatever you don't like. And if you are an advanced user, you know that you can have a lot of control over how your headphones work from song to song.
In Use
They're your headphones, use 'em how you want!
Once you've torn open your package like a kid with a non-denominational winter holiday present, you'll find one of the more brilliant headphones available to consumers. While it's easy to gush about the features, just about all of them are geared towards making your experience with the headphones exactly the way you want it. Not only can you change the look of the headphones, but you change how it functions on a fairly regular basis. Switching to NPR? Shift to the lowest bass. Switching to metal? Max out the bass!
If you like to customize, these are a great set of headphones.
Tweet It
I've been able to use these for the better part of a month, and they are practical in many situations. They isolate pretty well, so I haven't been annoying coworkers with my music, and they block out the cacophony of the street when going outside. It's also very easy to listen for long periods of time without discomfort or fatigue, as the huge ear cups cradle the skull gently, but they're firm enough to not slip around much. For those of you with very small noggins, these may not be the most comfortable headphones ever made, but they should fit a large range of heads with the sliding band.
You do not need to carry around an amplifier or any special equipment to make the most of these, as it doesn't take a lot of juice to get these cans to a decent level of sound. It takes only a little bit of power (17.1mV) to reach a good listening volume (78dB), so these can be used with an iPod or tablet without any issues whatsoever. Smartphone owners take note: There's no remote, so it may not be ideal for use on phone calls. Additionally, their bulk means that they're a bit difficult to jam into a bag or purse unless you have a lot of room.
Audio Quality
Very good at any setting
Having four different audio modes gives us a lot to cover, but on the whole the results are quite good. It's made even better by the fact that you can mess around with how your music sounds on the fly, which has its own value for those of you who like to switch between different types of music often. Not all music sounds all that good with the same settings, so why limit yourself to just one?
Each audio setting has virtually no distortion to speak of—you can't go wrong.
Tweet It
On the back of each ear cup is a slider that will change the frequency response based on the slider's position—position 1 will have very little bass, position 2 will have a very flat response (all sounds the same volume), position 3 will give you a bit of a bass boost, and position 4 will rattle your skull with low frequency sounds. While it's very likely that you'll pick one setting and stick with it, you should know that these audio modes are designed to fit a wide range of intended uses, and it's not just the bass that gets boosted or lowered.
Beyerdynamic has produced some very low-distortion in the past, and these are no different. All around, you can expect fantastic performance no matter what settings you have on the headphones, and this is very notable. Other headphones with different frequency response options in the past have boosted distortion, leading to an annoying experience, but the Custom One Pros do not. Don't be afraid to mess around—you won't hinder the quality of your music by changing the settings around, although some settings are more appropriate for different songs or programs. On every setting, there are no audible errors, but you may notice an ever-so-slight emphasis in the right ear cup on position 3. Beyond that, these headphones will give you exactly what you ask them to produce.
Conclusion
Tinkerers and those fickle-hearted with their headphones should definitely give the Beyerdynamic Custom One Pro a good, long look. Not only can you change just about whatever you want about the headphones, but also how they sound, which is very cool to say the least.
Sure, they cost a pretty penny, but in a world where celebrity-endorsed headphones are offering subpar performance for $300+, these offer far more for the money at $249.99. Considering the level of customizability, build quality, and the multiple performance options, the Custom One Pros should satisfy even the most indecisive buyer with great audio, high comfort, and good durability.
They're not without their imperfections, but that's kept to a relative minimum: many of the issues are nearly imperceptible, or simply extremely minor. At the end of the day, they're a set of headphones that have a lot to offer both novice and enthusiast alike, and are priced to leave something in your wallet if and when you decide to customize.
Our editors review and recommend products to help you buy the stuff you need. If you make a purchase by clicking one of our links, we may earn a small share of the revenue. Our picks and opinions are independent from any business incentives.
Our editors review and recommend products to help you buy the stuff you need. If you make a purchase by clicking one of our links, we may earn a small share of the revenue. Our picks and opinions are independent from any business incentives.
Advertisement - Continue Reading Below
Compare Prices
Our editors review and recommend products to help you buy the stuff you need. If you make a purchase by clicking one of our links, we may earn a small share of the revenue. Our picks and opinions are independent from any business incentives.
Get Our Newsletter
Real advice from real experts. Sign up for our newsletter
Thanks for signing up!