headphones
Audio-Technica SonicFuel ATH-CKX9iS Headphones Review
Pump up the jam: headphones for the active, bass-loving listener
$60.00 at Amazon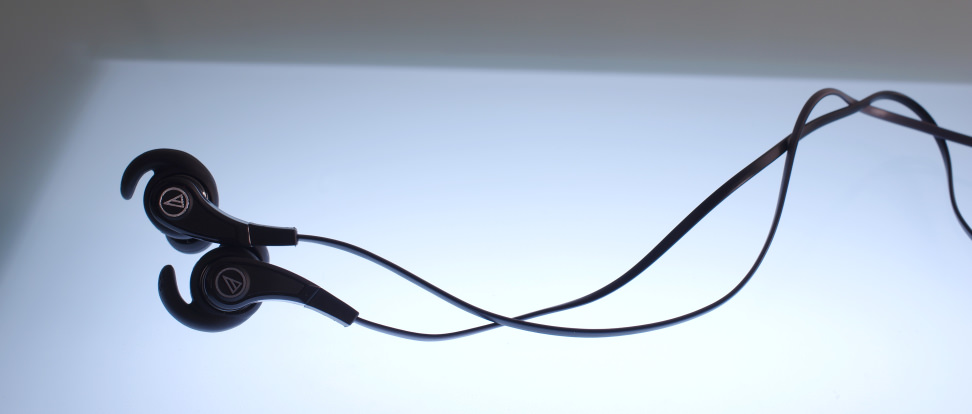 The Audio-Technica ATH-CKX9iS is better than 75% of the headphones we tested.
It is better than 74% of the headphones we have tested under $100.
It is better than 72% of the in-ear headphones we have tested.
Whether traversing a sea of commuters on a busy subway, braving stretchy pants and an hour of cardio, or doggedly tramping down the sidewalk for a boss's third frappuccino—sometimes, we just need music to keep us going.
If you're always on the move, you need something lightweight and portable that can keep up, like the Audio-Technica SonicFuel ATH-CKX9iS in-ears (MSRP $99.95). These sporty headphones pack all the handy extras you'll ever need: a great zippered carry case, a slew of different sleeve covers and earlocks, and a tangle-resistant cable with mic/remote. Oh, and they pack extra bass, too.
Anyone searching for a high-end listening experience will need to keep hunting, but if you enjoy bassy sound, these might be the right ticket.
The Outfit
Piles of extras
The CKX9iS in-ears lock into place, literally. Those funny-looking rubber protrusions on the speakers truly lock into your ear for a firm fit, so whether you're speed walking to work, stair-stepping, or cleaning the house, these headphones stay put. But watch out for sweat and moisture—these aren't water resistant.
The tangle-resistant cord houses a remote with a single button, a microphone, and a volume slider for extra convenience while on the go. The slider doesn't offer the same precision that a clicking controller would, but it's better than nothing.
Numerous sets of speaker sleeves in different sizes make it more likely that you'll find the right fit: four sizes of regular sleeves, a foam set, and small/medium/large earlocks. For added durability, Audio-Technica also includes a hard zippered carry case. All in all, I'm fairly impressed with the materials on this sub-$100 set of headphones.
The Audio
Bumping bass, muddled mids
Overall, the CKX9iS produced pretty good results in the audio lab. Music is generally clean and clear, thanks to very little harmonic distortion, and the volume is nicely balanced between the left and right speakers. The only trouble is that parts of the upper midrange lack a bit of clarity.
Delicate musical components like high notes on strings, percussion, and brass aren't especially prominent.
That's because these headphones put marked emphasis on the bass notes and middle notes, but upper-middle notes fall just a bit too much in volume. Therefore, delicate musical components like high notes on strings, percussion, and brass aren't especially prominent—obscured by deep-down bass notes and other middle notes. Luckily, this is the only notable performance drawback I found while testing these Audio-Technicas, and it's one that only picky ears will balk at.
Everything else sounded ship shape, and testing even ended on a high note: These headphones do a nice job of blocking outside noise, thanks to the included set of foam speaker tips.
Comparable Products
Before you buy the Audio-Technica ATH-CKX9iS, take a look at these other headphones.
The Bottom Line
Hold out for sale prices.
To put it simply, the Audio-Technica ATH-CKX9iS (MSRP $99.95) in-ear headphones are comfortable, durable, and likely to please many a bass-loving listener. Unless you have a purist's ear or an inclination towards instrumental genres, these will probably do the trick.
The CKX9iS headphones aren't totally worth the full asking price because they lack a bit of clarity in upper-middle notes. Since the bass is meanwhile quite prominent, these headphones wind up with slightly muddled sound quality—so if you jump for these in-ears, look for discounts first.
Our editors review and recommend products to help you buy the stuff you need. If you make a purchase by clicking one of our links, we may earn a small share of the revenue. Our picks and opinions are independent from any business incentives.