headphones
Audio-Technica ATH-ADG1 Gaming Headset Review
A truly premium option for gamers
$944.37 at Amazon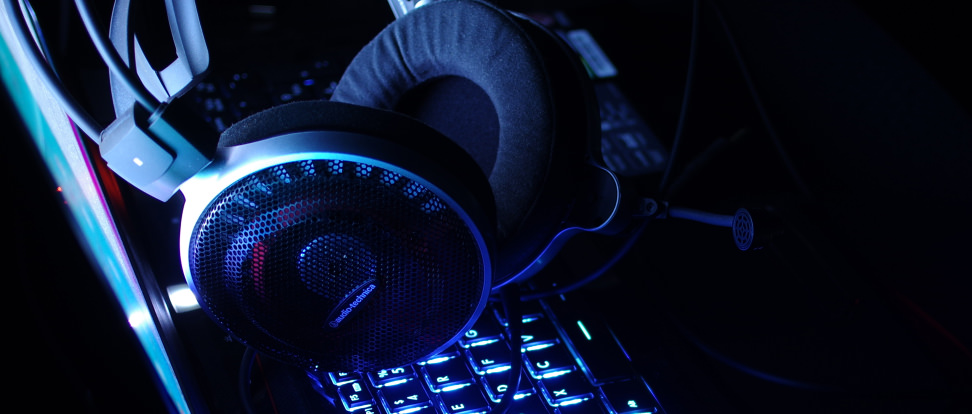 The Audio-Technica ATH-ADG1 is better than 11% of the headphones we tested.
It is better than 11% of the headphones we have tested under $300.
It is better than 11% of the over-ear headphones we have tested.
If you're a die-hard gamer, finding the kind of headset that wears two hats—premium sound and gaming functionality—can be tricky. With the ATH-ADG1 open-back headphones (MSRP $299), Audio-Technica strives to deliver a high-end product that doesn't shy away from gaming accoutrement, like a built-in microphone.
If they look familiar, it's because they're basically a carbon copy of the ATH-AD900x with a microphone slapped on.
The ATH-ADG1 over-ears have definite pros and cons. As open-backed headphones, they lack flexibility. You can't comfortably take them on the go, or use them in noisy or crowded environments. They also don't provide the kind of flat, even soundscape preferred by audiophiles. As a gamer's companion, however, these Audio-Technicas are top-notch. Flat bass support and boosted treble help the subtler elements of background music and sound effects stand out, and their feather-light weight means you can wear them comfortably for hours.
At its core, this product does one thing extremely well for $300. There are much cheaper options if you need quality on a budget, but if you want premium, open-backed sound you can game with, give the ATH-ADG1 over-ears a listen.
Design & Features
Top-notch comfort, great extras
The open-backed ATH-ADG1 over-ear headphones are a rare breed within the world of gaming headsets, simply because they're so comfortable: huge, plushly-lined cups cradle your head; an automatically adjusting 3D wing band gives the product a feather-light weight; and a sturdy mix of plastic and aluminum ensures good durability.
The ATH-ADG1 over-ears are so light, you'll probably forget you're wearing them.
For big, somewhat bulky open-backed headphones, these Audio-Technicas look equal parts business and party, and they're so light you'll probably forget you're wearing them. I particularly like the look of the speaker drivers and coils, which stand out proudly behind sturdy metal grates.
A small, flexible microphone extends from the left ear cup, just opposite a hidden mute button that's within easy reach of either hand. The mic swings in a 45° arc, from just above the mouth to pointing almost straight down. Both the flexible boom and adjustable slider are quite firm, meaning you probably won't knock the mic out of place accidentally.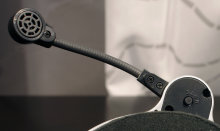 Since this is a gaming headset, you need to do more than just plug it in and listen—your voice needs to be heard, too. Fortunately, Audio-Technica throws in a gold-plated extension cable that doubles as a jack splitter for separate audio and microphone hookups. This means if you're just listening to a single-player game, you needn't worry about a bevy of loose jacks, but you can easily throw the mic into the mix for multiplayer madness.
The final piece of the puzzle is a detachable USB DAC (digital-to-analog converter). A DAC is a fairly standard accessory that bridges the gap for ultrabooks or older tower PCs without built-in sound cards. Without a sound card to power the ADG1 over-ears properly, they simply won't sound up-to-par, so this accessory is certainly welcome, even if it isn't entirely necessary.
Audio Quality
An excellent option for gamers
Because the ATH-ADG1 over-ears are open-backed headphones, there are a lot of places you don't want to use them. Anywhere noisy, for example: The open-backed design means you can hear almost everything going on around you right through the ear cups. You also wouldn't want to use these in a crowded environment, like an office, as they leak a ton of sound for the exact same reason. Toss in the lack of a carry case and the bulky design, and you've got a pair of headphones that should definitely stay at home.
The ATH-ADG1 over-ears should definitely stay at home.
At home, however, you'll be quite pleased with the performance. I tested a decent soundscape here, with the particular sort of emphasis we expect from a gaming headset.
For example, the ATH-ADG1 open-ears have a flat, even bass response that's great for games. Deep noises like the thunk of hammer on shield or a humming tesla cannon won't overwhelm the sound stage. Middle- and high-mid range notes are emphasized less, so the voices of droning NPCs, telling you the way to Azura's Shrine for the 19th time, are a little harder to hear. Middle- and high-mid range notes are emphasized less, however, meaning that the voices of droning NPCs who are telling you the way to Azura's Shrine for the nineteenth time will be a little harder to hear.
The very highest pitches receive a sharp boost in volume, on the other hand. This means that subtler details, like the harmonic overtones of background music, stand out with a particular shimmer. The downside? Sound effects that live in the high treble range—such as the sibilant "sss" sound on the "Fus!" shout in Skyrim—can be a little too prominent; I found myself flinching more than once.
The open-backed design gives the whole soundstage ample room to breathe, creating a three-dimensional effect.
One of my favorite qualities about the ADG1s is the open-backed design, which gives the whole soundstage—from deep bass to shimmering treble—ample room to breathe. In the end, listeners will therefore enjoy a three-dimensional effect, and it isn't just good for games: I watched Zodiac late at night with these cans and kept hearing murmuring across the room, off to the side, which made my heart jump the first few times.
The open design also means that there's practically no distortion at any volume level, though we did test more than average within the deepest bass range. The huge speaker drivers can handle tons of volume without distorting throughout most of the audible spectrum—just be careful not to listen to anything too loud.
Last but definitely not least, how 'bout the microphone? I chatted with my friends for a few hours on Skype, and even hopped into a game of Minecraft with them. My friends told me that, compared to my other gaming headset, my voice was easier to hear, but without the elements of abrasive clipping that sometimes accompany a louder microphone.
Comparable Products
Before you buy the Audio-Technica ATH-ADG1, take a look at these other headphones.
Conclusion
Not the pinnacle of value, but still in a class of its own
For many consumers, spending $300 on a set of headphones is unheard of. It's true: The ATH-ADG1 over-ears are extremely expensive. You can't use them for console gaming, or take them on the run, as with the Turtle Beach Atlas over-ears ($150). Without special cables, these Audio-Technicas only work with a PC—preferably one with a built-in sound card. Accessibility is not this product's strong suit.
On the other hand, if you're properly kitted out, the ATH-ADG1 over-ears the lush, premium gaming experience that only open-backed headphones can. The boom mic works terrifically, and the overall design is very high-quality; in fact, this headset is so light and comfortable, you'll probably forget to take it off. If you'll only settle for the best sound while you frag the competition or explore a goblin mine, it's dangerous to go alone: take the ATH-ADG1 over-ears with you.
Our editors review and recommend products to help you buy the stuff you need. If you make a purchase by clicking one of our links, we may earn a small share of the revenue. Our picks and opinions are independent from any business incentives.