headphones
AKG K 323XS Headphones Review
Teeny headphones, massive soundstage
$59.95 MSRP
Buy now at Amazon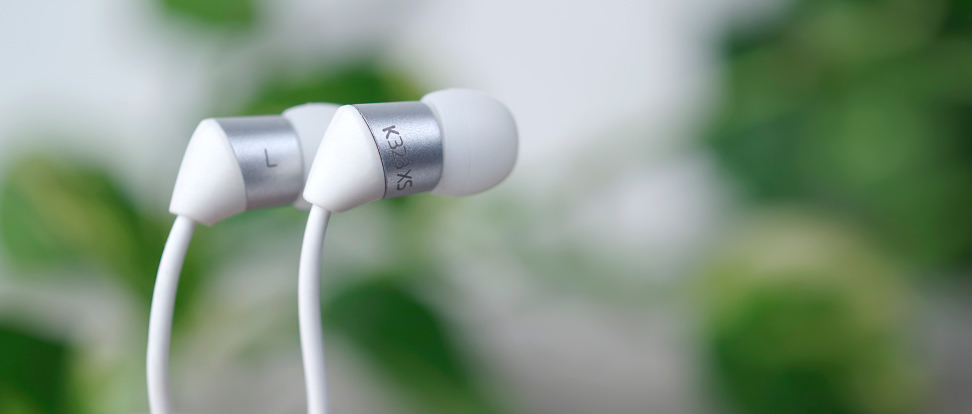 The Guts
The AKG K 323XS's (MSRP $59.95) zippy form factor really wowed us, but a sleek design won't keep things afloat in the face of a robot and a slew of audio tests. As it turns out, the XS isn't all about looks.
Test results were nothing short of shining, with zero audible distortion, an expertly balanced frequency response, huge isolation numbers, and a handful of other great marks to boot.
Frequency Response
When measuring and assessing a frequency response, we're determining how a set of headphones emphasizes various notes along the audible listening spectrum. In this case, we found a very balanced sound profile that's sure to satisfy plenty of listeners.

Instead of blasting volume throughout bass and sub-bass regions (a trend for many consumer headphones), the XS produces more of a flat response. Meanwhile, mids and upper mids dip slightly in volume, and very high notes get a boost in emphasis. The resulting shape mimics an equal loudness curve (ELC), or one that emphasizes all frequencies in a such a way as to equalize them in volume for the human ear.
The XS's soundscape therefore has firm bass support, and lots of detail throughout the middle and high range, as well: tiny headphones, really big soundstage.
Distortion
Part of the XS's high score is on account of its distortion test results: These are phenomenal measurements. In general, we hope to find no more than an average of 3% total harmonic distortion throughout the entire spectrum, but the XS keeps that number below 1%.
That means that at no point along the response will listeners ever hear any unwanted garbage in their music—no clipped notes, no added mechanical noise, just pure, clean tunes.

Of course, if you have no sense of precaution and you crank tunes upwards of 107dB, that measurement climbs to above the 3% mark. Just practice safe listening and this won't be a problem.
Comparable Products
Before you buy the AKG K 323XS, take a look at these other headphones.
Noise Reduction
Talk about a noise-blocking beast—the XS blocks the kind of noise that you'd normally need active noise cancelers for. On average, these tiny headphones block 28dB of outside sound.
Specifically, bass noises like rumbling vehicles are reduced by more than half. Midrange outside sounds are shrunk to more than 1/4 their original loudness, and very high-pitched bothers are hushed to more than a whopping 1/32.
Our editors review and recommend products to help you buy the stuff you need. If you make a purchase by clicking one of our links, we may earn a small share of the revenue. Our picks and opinions are independent from any business incentives.