Turtle Beach Ear Force X12
A bargain-bin XBox headset that does its job, with some drawbacks.
Turtle Beach Ear Force X12 Gaming Headset Review
$59.95
Product Overview
Meet the Turtle Beach Ear Force X12, gaming headset for Xbox 360.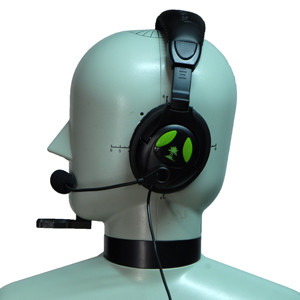 Speakers
Here we see the speaker element, guarded by a branded mesh.
Back
The back of the Turtle Beach Ear Force X12 sports the Turtle Beach logo, as well as some design accents that scream "XBOX", if you weren't already aware as to what this headset is for.
Band
One of the cooler things about this headset is how ludicrously thick and soft the band is. Pictured is the underside, which will cradle your cranium for hours on end.
Cable
Normally this would be a bad thing, but the cable of the Turtle Beach Ear Force X12s is 16 feet long, allowing you to sit far back from the tube and still enjoy your games.
Not what we usually see here at HPI, the Turtle Beach Ear Force X12 uses a USB connection to power the headphones, and a 3.5mm plug for both the microphone and headset. It can be a little awkward, but you should be fine with the USB connection and your console, provided you're not doing much co-op.
The plugs are robust and well guarded (at least, as much as can be expected), so you shouldn't have many durability issues for the contact or solder points.
Additional Features
Attached to the left ear cup is the boom microphone, which can be articulated to the angle and orientation that the user prefers, as the material is quite malleable.
Also included in the packaging for the Turtle Beach Ear Force X12 is an RCA cable adapter, though this probably won't see much use.
In the Box
In the packaging for your brand-spankin' new Turtle Beach Ear Force X12s is your headset, assorted documentation, and RCA cable adapter.
Durability
Given that these cans are molded from plastic, it's no surprise that you really shouldn't toss these around in the heat of a ragequit. Not only that, but you can easily damage the microphone if you do this. Still, they are reasonably well-made; just treat them well.
Aesthetics
Harkening back to design elements (mainly the color scheme) of the original XBox, the Turtle Beach Ear Force X12s sport lime green mesh on the backs of their cans, as well as a rather prominent TB logo. While the most of the guts of the Turtle Beach Ear Force X12s are ensconced in black plastic and polyester, the overall look of the headset feels rather appropriate for the console (especially if you have the elite edition 360).
Sections