Audio-Technica ATH-W5000 Headphones Review
$1,199.95
Tour & Design
**
Tour**
---
The Audio-Technica ATH-W5000s have an interesting mix of various design elements.


For a sense of scale, the plug above is a large 1/4-inch affair.
The ear cups are capped off with striped ebony wood, which looks incredibly snazzy.


***We're sorry, but if you look at the above image and don't think, 'wow, these look expensive,'
then you quite obviously have a different opinion than our own.***
The ear cups themselves have lambskin-lined padding.


Lambskin pads will either strike you as luxurious or cruel. Either way, they're really soft.
One somewhat uncommon design feature is the band. The band is actually made up of two metallic ribbons that don't actually sit along your head. The paddles are what hold the headphones in place.


The paddles do have padding, which is comfortable.
As always, we took a few pictures with the headphones on HATS. Use these images to get a small sense of what they might look like on you, or a head-and-torso-simulating robot of your choice.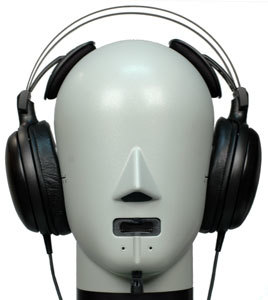 HATS has an average-sized head. If you have a head of a similar size, the W5000s will sit low and loom large.
In The Box
---
In the ATH-W5000s gigantic, opulent, velour-lined box you'll find the headphones and a soft bag.
---
The ATH-W5000s seem pretty sturdy. The ear cups are wood and a good quality plastic. The band is metal and doesn't seem like it'd break easily. The cord is thick and well insulated. The cord guards are excellent. The one area that's questionable is the neck split, which doesn't have cord guards. This area is not likely to incur stress, and even if it were, the cord is rugged enough to absorb the abuse.
The head paddles are moving parts that involve springs, which run the risk of wear and tear. Other than this one area, however, the ATH-W5000s are solid.
---
The ATH-W5000s seem simultaneously classy and silly. Looking at them by themselves, they're an impressive piece of hardware. They have wood on the outside of their ear cups, and certainly look well put together. Holding this in your hand, you'd be able to tell it was a nice set of headphones.
On your head is a different story. Since the paddles hold these things on your head, the two bands hover above you like overly blatant halos in religious paintings. Also, the headphones are large; larger than typical over-ears. The W5000s will appear to be devouring your head.


***If you don't mind two metal arcs hovering over your head,
then the ATH-W5000s are for you.***
Now, since the first and second paragraphs deal with entirely different facets of aesthetic quality that sort of cancel each other out, we gave them a 5 and leave where they fall up to you. If you're planning on using them in private, rate these things an 8, because people will only be seeing them when they sit on your desk. If you plan on using these in public, consider them a 4. It's not that we don't like their look, it's just that the wooden ear cups say, 'I am classy,' and the head orbits say, 'I am a DJ in my spare time.' If you have a turntable in your study and put together beats while sipping brandy in a red smoking jacket, then the ATH-W5000s are the perfect look for you.
Sections