Audio-Technica ATH-M50
Great set of cans for the price, Audio-Technica's ATH-M50s are a classic.
Audio Technica ATH-M50 Over-ear Headphones Review
$199.00
Better than
84%
of Reviewed Headphones
Frequency Response
As you can see from the chart below, the frequency response of the ATH-M50 was a little more dynamic than what we usually like to see, but for some people the overemphasized bass and subdued 5-10kHz ranges might be preferable to other headphones. Audio Technica seems to have frequency responses very similar to this one in other models they've fielded, but this one is somewhat improved over other models we've seen. Still, don't let the branding fool you, these are not headphone variants of studio monitors. Not even close.
What does this response mean for you? Well, in addition to feeling like you have a subwoofer inside your head, you'll also notice that sibilants (s, sh sounds), cymbal crashes and high-hats will all sound a little muffled in comparison to other instruments and voice sounds. Given that these specific sounds are typically pretty loud in comparison to others when their levels aren't toned down a bit in an unmixed track, it's not terribly surprising that Audio Technica would elect to downplay these sounds. We still believe that if the track is mixed correctly, this underemphasis is unnecessary (and leads to bad mixing if you use these headphones at home to create tracks). These are not ideal headphones for this purpose.
Click here for more information on our frequency response test.
Distortion
The ATH-M50 had no troubles here, as it has only a negligible amount of distortion, well below the level at which it would become annoying to your average human being.
Click here for more information on our frequency response test.
Tracking
Ideally with this type of headphone we look to see a flat response here, but the ATH-M50 seemed to sway back and forth between which channel it preferred a bit. You probably won't notice this at all, as the channel shifts aren't horrendous, and usually only around 2 dB. If you're listening to music, chances are good that you won't hear these tiny shifts even if you're looking for them.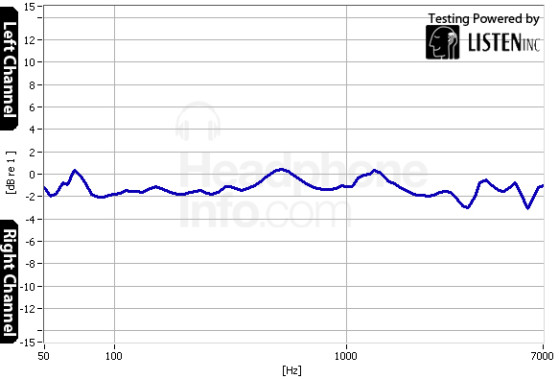 Click here for more information on our frequency response test.
Sections