Able Planet PS500MM Headphones Review
$100.00
Tour & Design
**
Tour**
---
The AblePlanet PS500MMs are a set of on-ears with a microphone and

in-line volume control.
The ear cups are smaller than we typically see on a set of on-ears.
The back of the ear cups are semi-open. They can tilt back and forth

on the band.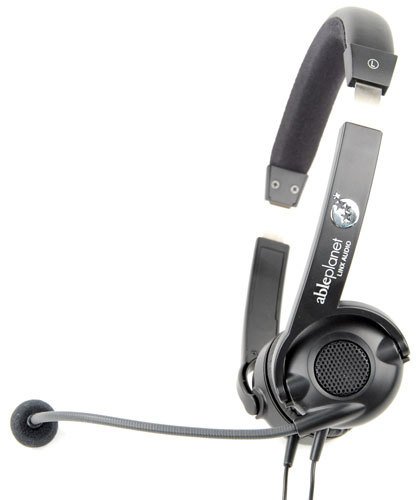 The head band has soft padding on its underside and can extend.
Part of the way down the cord is the control pendant. The front of

the pendant has an on/off toggle for the mic, as well as a volume

control dial on the side.
The cord ends in two 1/8-inch plugs. The green one is the headphone

plug and the pinkone is for the mic.
Here's what the headphones look like on HATS. Note how much of

HATS's ears are showing around the padding.
In The Box
---
In the PS500Ms' box you'll find a pouch. The headphones are also in

there, but that's about it.
Durability (*6.25**)*
---
These headphones seem durable enough. They have a thick cord, not a

lot of moving parts, and seem to be manufactured well. The ear padding

is covered by a soft skin that might be punctured if you have spiky

earrings, but should stand up to extended use. Also, the ear cups can

tilt, which can lead to wear and tear. The cord guards are decent. The

mic sticks straight out, so make sure you don't step on it.
Aesthetics (*5.00**)*
---
For a set of headphones with a mic, these aren't bad. They do look

rather like the ones you see at a fast food drive through, but that

aesthetic comes with the territory. The tiny ear cups might make the

headphones look a bit strange on your head, but since we can only

fathom guesses as to what lies atop your neck, we can't really make a

judgment about that.
Overall, we liked the look of the PS500MMs, but the mic adds some

nerdy to the picture, and that's not a look that some people may find

appealing. Of course, this is our opinion, which likely differs from

your own personal style. What we're saying is this: follow your heart.
Sections